I knit this set for baby Nicolás. The pattern is based on one in Debbie Bliss's The Baby Knits Book
although I made significant changes. I used a great wool, Peruvian Collection Highland Wool from elann. I was very pleased with how it turned out, although progress seemed to be slowed down by the presence of the zipper :).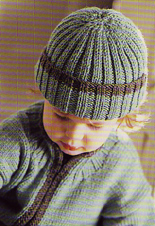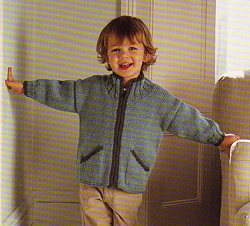 And here is the cutie Nicolás modeling his new outfit: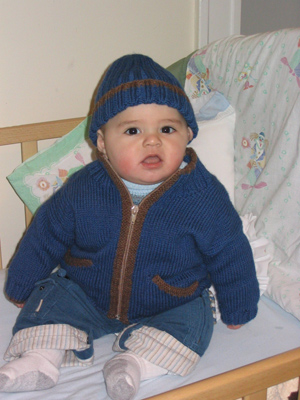 Comments:
First, these are the things I altered in the pattern: (1) I sized it down just a bit from the given 1-year old size, (2) I knit it in one piece to the armholes instead of in three
pieces, (3) I used a yarn with a different gauge than what the pattern called for, (4) I knit pockets following directions in Montse Stanley's Knitter's Handbook
rather than the awkward directions in the pattern, (5) I knit the sleeves without a seam from the shoulder to the cuff, rather than knitting them flat from the cuff to the shoulder, (6) I knit the hat in the round rather than flat and then seaming. I think that's it.
Second, this is the project of details. The finishing touches made everything look much more professional. Washing the hat and letting it dry while having the rim pinned was critical for getting a nice, crisp, uniform fold. Since the sweater is in stockinette stitch, it had a tendency to curl until it was wet-blocked under tension. The zipper was a difficult detail, and I chose to redo it in order for it to look neater on the inside. On the inside?!? Yes. I found that the first thing people do to examine a handknit sweater with a zipper is to unzip it and look on the inside! Here are photos of some details:
The custom-made label: (click here to see how I made it)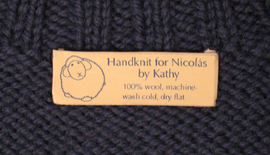 The sleeve: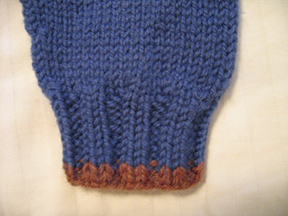 Zipper and pocket edging detail: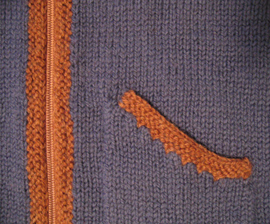 A neat-looking sweater on the inside, too: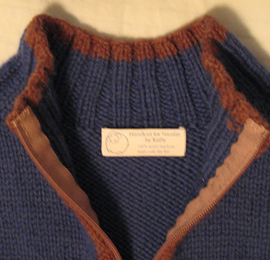 Final
product: isn't it nice? 🙂