Knitting a cover for a toss pillow is fun and easy. It's the type of project I like to take to Stitch'n'Bitch sessions because it doesn't require too much concentration. The idea for this pillow came from two sources – in her book Confessions of a Knitting Heretic
, Annie
Modesitt has a swatch where she alternates colors in purl rows, and I thought that it looked really cool. The other source of inspiration was the extraordinary prices of mass manufactured toss pillows.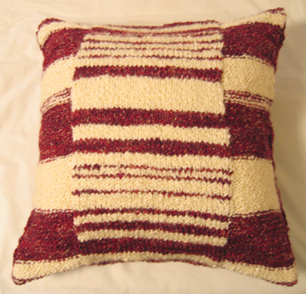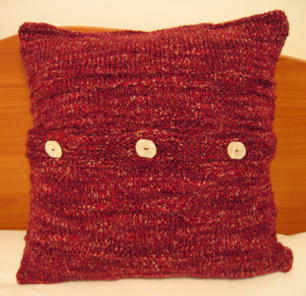 Pattern: I made up the pattern myself. I decided to knit the middle section in stockinette (knits), and the side sections in reverse stockinette (purls). I sketched the pattern in Adobe Illustrator, and started knitting!
Yarn: Both of the yarns used here were purchased from eBay, and both claimed to be like Lion Brand's Homespun yarn. Neither were like it, though. The cream yarn is more loosely woven, and is thus more flat, whereas the burgundy is variegated, thick'n'thin, and overall thinner than Homespun. The gauges of these two yarns are different, so it was a bit of a challenge to work with them.
Comments: Overall, a very satisfying project. The yarn was pretty difficult to work with, especially because I knit it on relatively small needles to make the fabric dense (I used US 7, when I could have easily used US 10). The burgundy knits up beautifully, and has both a
great texture and color to it, but smells horrible. The front of the pillow is worked all at once, which means that at certain times I had four balls of yarn to juggle. I underestimated how much the finished product would stretch, so the cover is a bit loose. At the same time, it means that if I decided to get a bigger stuffer, the cover would still fit. This is the first knit item I've made for myself, and as the recipient, I give it thumbs up! Now I just have to make a matching one from the same yarn with a slightly different pattern…
Final size: 44 cm x 44 cm. Final cost: the stuffer was $5, and the yarn was something like $3-4.