The first item I completed after discovering Combined Knitting. I did notice that my knitting was more even and much more effortless, so I'm pretty much a convert. But I feel like I'm an educated knitter and I know what my needles are doing – for instance, the
patterned portion at the top I knit using Western knitting without screwing up
and twisting stitches.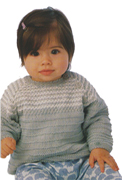 Pattern: The design is by Danica and Dragan Popadic and appears in
the Fall 2004 issue of  Family Circle Easy Knitting.
Yarn: You are going to be so jealous. I purchased some absolutely wonderfully soft 50% alpaca/50% wool on eBay for $1.90/skein (130 yd. in each, price including shipping). I used the beige (oatmeal) as the main color, and the heather gray as the contrast color.
Comments: It took me a while to complete this project. I started the back something like 5 or 6 times, then the front and sleeves were quick, but I ended up re-knitting the back at the end one more time. I wasn't supremely happy with the finished product. I am not going to blame
it all on the pattern writers, but the instructions were very terse and left much up for interpretation. My main complaint is that even though each piece was precisely the right size, putting them together was awkward and a lot of the material ended up in the seams, making them very bulky, especially for a baby sweater. The buttonhole instructions were pretty much wrong, the collar instructions left the neck hole the size of a plum, and there were no instructions for the button placket. But, it was a good learning
experience. This is the first item that I knit from pieces and then put together, and handling the yarn was a joy because it's so soft.
Final product: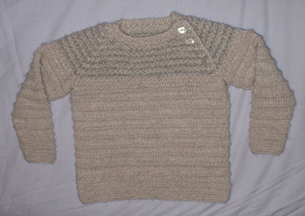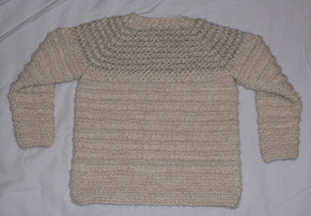 I made the sweater in the 1-year-old size, and it came out according to the design. Final cost of materials – about $10. This sweater will be donated to charity, but if I ever knit this pattern again (probably not with so many different ones to try out there), I think I know what
I'd change to make this sweater really great.