Dear Stitch, my knitting god,
I believe you are trying to communicate with me. As dense as I sometimes am, I think the message is coming through. Let's see if I got it right:
First, Jenifer from Knitting at 5337 asked me about Louet Gems, which prompted me to pet it as I was writing a quickie review. Mmmm, Louet, I love you so much.
Second, I remembered that one of my local yarn shops, the one which carries Louet, is having a winter clearance to make space for new spring goodies. Mmmm, winter clearance, I love you so much.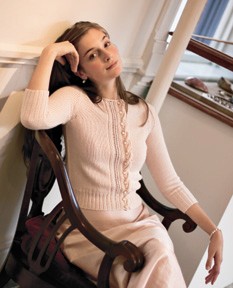 Third, it has already occurred to me that the Vintage Pink Cardigan from the Spring 2005 Interweave Knits is knit at 24 sts/4 inches, which also happens to be the recommended gauge for Louet Gems Merino Opal. Coincidence?
Fourth, I don't insist on making a pink sweater like the one in the magazine, but I'm not opposed to it, and Louet does make a lovely pink called "Pink Panther". Rrrarr! I love pink.
Prompted by these weird coincidences, off to the LYS I went. Their current selection of Louet is very meager because they're just trying to get rid of their leftovers. Just a skein of this, two of that, and then a whole bin of three different shades of brown that can only be described as variations on poop – yuck!
But what was hiding between all the poopy-colored yarn? Some pink goodness, which I promptly placed in my basket, lest anyone else snatch it from under my nose. I quickly looked over both shoulders to make sure no one saw me take the goods. I'm possessive when it comes to yarn. I went to a corner of the LYS to contemplate.
How many skeins of Louet did I calculate I needed to complete this sweater? 5.8.
How many skeins were there at the LYS? Exactly 6.
Were they all the same dye lot? Yes.
Were they on sale? Yes.
In the words of our great President, shock and awe. I paid my $64.80 (would have been $72 full price), and went home.
Dear Stitch, the message is clear, but there's only one question remaining – is this pink the pink for me? Some pinks make me look washed out, with my pale skin and all. I'm still pondering this point, and plan to take a skein of the yarn to my knitting group to get some live opinions. In the meantime, I snapped two photos – one indoors and one outdoors – to see if the readers have any opinion: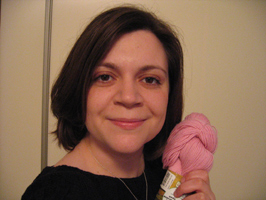 &nbsp&nbsp&nbsp&nbsp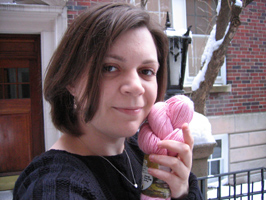 What do you think? Will this work?
To further shed light on this situation (or perhaps to utterly confuse myself), I took some pink clothes out of my closets, and compared the skein of Louet to them: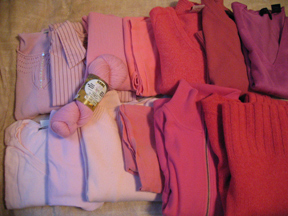 Before you say anything, yeah, I have a lot of clothes, and a lot of pink clothes. Hehehe, hoohoohoo, I'm just thinking how much more ridiculous this picture would look if I compared the skein to my pink underwear and bras instead :).
I felt really reassured when I noticed the pink Louet nearly perfectly matched a favorite sweater of mine (the one which the top of the skein is touching).
In conclusion, Stich, the god of knitting, I understand. I will do my best to produce a quality garment from this Louet.
Your most humble follower,
Grumperina