I made these mittens for a good friend's girlfriend. She likes light green, so I selected a color called "lime ice" from elann's Peruvian Collection Highland Wool.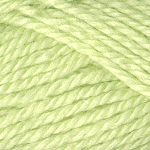 The wool is worsted weight, and it took me about 2 and 1/2 skeins to complete the pair. I followed a pattern from Folk Mittens
 called Tyrolean mittens. After I finished the pair, they were too big for my hands, and for the intended recipient's hands as well, so I felted them, twice. Both times I felted without a washing machine: the first was an overall felting, and the second was a more precise felting of the cuffs and lower part of the mitten to allow them to fit tighter around the wrist. I was very pleased with the results, but not nearly as pleased with how difficult it was to capture the color of the wool accurately! Even on elann's website the color is off, so there's only so much I can expect.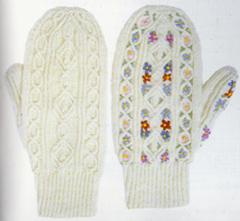 This is how the mittens appear in "Folk Mittens." They are knit in a creamy white wool and later embroidered with flowers. I did not embroider the mittens I knit, per recipient's request.
Final product: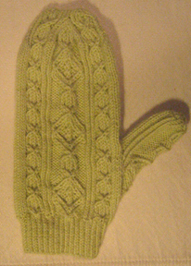 This is the mitten in its pre-felted form. It is quite sizeable.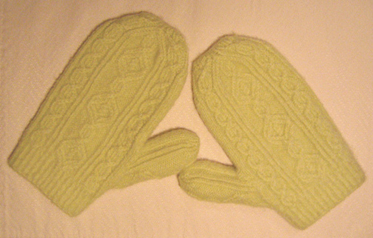 After the felting, in their completed form. You can see that the mitten tapers at the cuff, which I did on purpose to provide tightness around the wrist.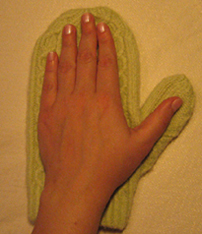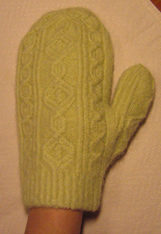 This
is me trying to figure out if the mittens fit well. They fit ME very
well!!!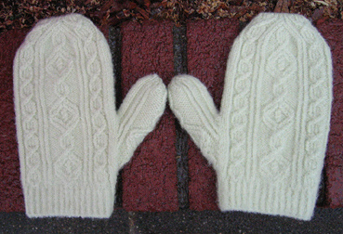 The obligatory outdoor photo, taken on a cloudy day.
It was raining, too. The color looks very different than in real life, of
course.
Comments: very happy with how things turned out. Very happy with how they felted, and that I was able to shrink them down to size.