The pair of socks I made for my grandmother in October of 2004 were a huge success. She said they were quite warm and wore them every day. Combined with the fact that they are 100% wool (as opposed to a wool/nylon blend), they disintegrated within a matter of a few months. No problem, granddaughter to the rescue! The pattern is once again from Knitting on the Road
by Nancy Bush. This sock is called "New England."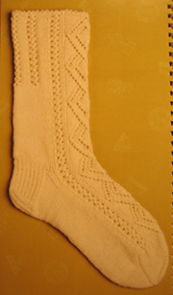 Yarn:
I used a gorgeous hand-painted yarn by Lorna's Laces in a colorway called Baltic Sea. It is a combination of brown, turquoise, blue, with hints of gray and burgundy. The composition is 80% superwash wool, and 20% nylon. Lorna's Laces splits very easily and should be handled carefully, especially when doing decreases. However, it has a fantastic hand. I did notice a bit of expansion after machine-washing the socks, but not an unreasonable amount.
Needles: I used a set of 5 double-pointed needles, size 1, made from bamboo.
Here is a close up of the pattern when I was just starting the socks: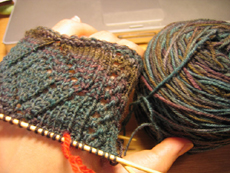 Final product: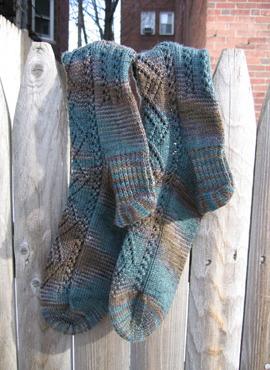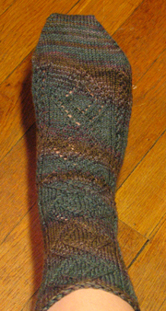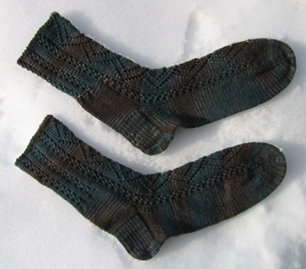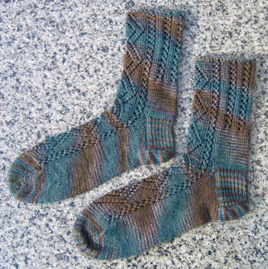 And here they are! Beautiful, aren't they?
Because I wanted to make sure this pair of socks lasts longer than just a few months, I decided to add reinforcement thread into the soles of the socks. I couldn't very well hold the two together and knit because the yarn is handpainted and no one particular color, so I wove the thread in a manner one weaves in ends. I will await grandma's reviews to see if this actually helps.