Upon seeing some of my knitting, grandma asked me to make her a pair of house socks. My feet don't really get cold, so the idea of wool socks didn't appeal to me until she asked. It was such a cool experience that I documented the process through photos! If you
aren't interested in the saga of the sock, scroll down to see the final product.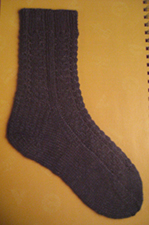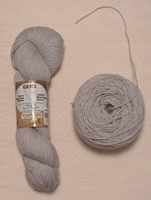 Pattern: The pattern is from Knitting on the Road
by Nancy Bush. This sock is called
"Denmark."
Yarn: I used a great yarn by Louet Sales called Gems Opal. It is sportweight,
100% washable merino wool, the color is called cloud grey.
Needles: I used a set of 5 double-pointed needles made from bamboo, US 3.
Saga: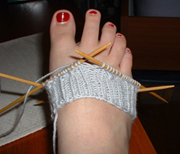 Here I'm measuring how long it will
take for the circulation in my foot to be cut off by double-pointed needles… I
mean, here I'm making sure I cast on enough stitches to stretch around the foot.
(Pardon the slightly-butchered pedicure)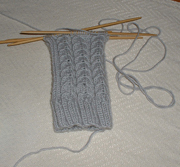 The top is done! At first I used
a cabling needle, but eventually I remembered how to make cables without one,
and things went much quicker.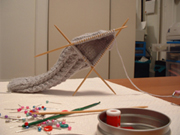 Turning the heel was tricky, but not impossible. The half-finished sock looks like
a monster suspended like that!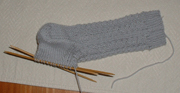 Here is the heel and the gusset, all
done.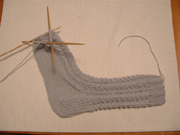 Just before the toe, at this point I
was convinced that the socks would be a success.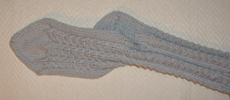 The
pattern called for a toe like this one. I decided it was too pointy and
redid to be more blunt.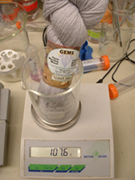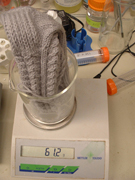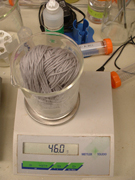 Anyone guess what's happening here?
And now we jump right into having two socks – I didn't take any pictures of the second one while I was making it.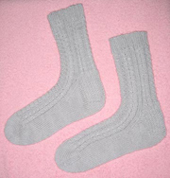 After washing the socks, I blocked and dried them on this bubble gum pink towel.
Meanwhile in non-sock news: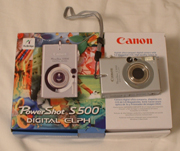 Have you noticed my less-than-stellar
photographs? They were taken with my very ancient, very large digital camera. Here's my new camera! (picture taken with my old one, of course) I've been saving for this one for about 6 months, and now it's mine, all mine! Finally, I'll be taking decent photos.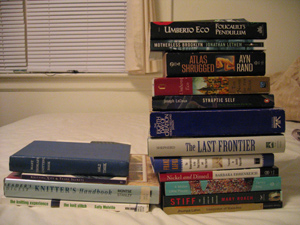 The biggest problem knitting is currently causing is a complete pausing of my
reading. Here are just some of the books I've been itching to read, but
that have been taken a back seat to my knitting. I don't even have time to
read the knitting books (stack on the left), let alone regular fiction and non-fiction (on the right). I'm currently exploring the option of
audiobooks, hopefully that will help my dilemma.
Final product: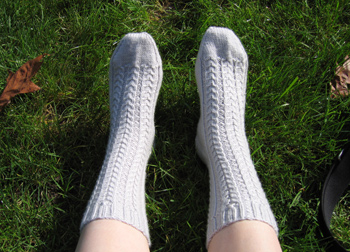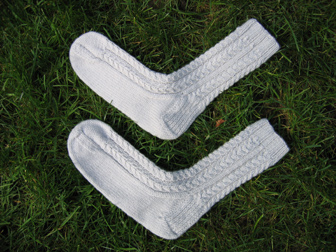 And here they are! They came out
quite well, a bit too big as seen here on my feet, but most likely perfect for
my grandma's fairly big feet. I'll be making more socks! Not for me,
but for people whose feet get cold :).