I made this sweater "to order" for a co-worker's niece. The sweater pattern is based on the "cardigan with frilled sleeves" from Debbie Bliss's Baby Knits
 I modified the pattern to include a colorful trim and re-worked it for a different yarn. The yarn I used is  Baby Ull by Dale of Norway in light peach (#3403) and tomato red (#3718). The light peach varied from dye lot to dye lot, so I chose the one which looked most orange – it looks more like light orange sorbet than peach, which usually has pink undertones.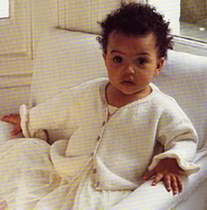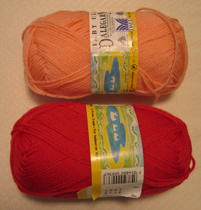 (cute baby not included)
Comments: I loved working with this yarn! Thin? Yes. Wonderful? Yes. With a gauge of 32 stitches and 44 rows per 10 cm, I calculated that the cardigan has approximately 49,000 stitches! I took some liberties with the pattern in addition to making a contrast edge. Rather than working the sleeves from the cuff to the shoulder flat, and then sewing them to the cardigan body, I picked up stitches along the armcye and worked them down in the round. I made more sturdy buttonholes. I used a three-needle bind-off for joining the shoulders and left back stitches on a holder to continue with the collar later (the pattern asked you to bind-off first in both of those instances).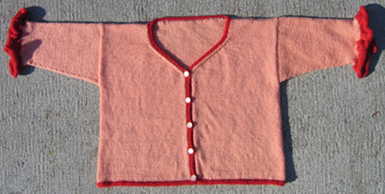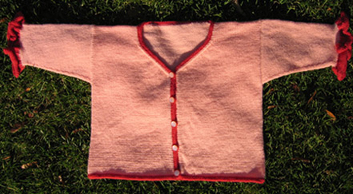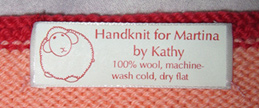 (click here to see how to make this custom label)
The sweater is 12-18 months old size: chest = 70 cm (27.5 in), and from cast-on to shoulder is 32 cm (12.5 in). With careful planning I was able to use only three skeins of the light peach and one skein of the tomato red. I made a custom label by using iron-on transfer paper and a piece of ribbon. The overall cost of the sweater is about $26.