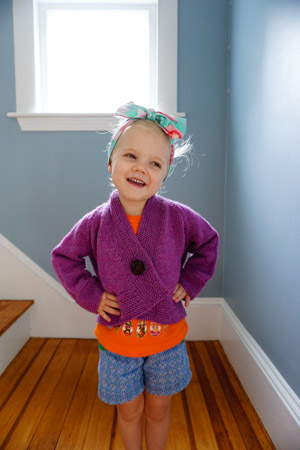 Pattern: Livie sweater by Carrie Bostick Hoge. I mostly followed the directions for the 8th size (6y), but with my gauge being different, it's a little bit smaller than the specified finished measurements.
Yarn: Berroco Vintage in Fuchsia (51176). This is one of my favorite Vintage colors – I've used it twice before (Wee Levenwick, Hexathrow). Another favorite color is Blue Moon (51191) (Silverfox Cardi, Odessa). I used just a tiny bit more than 2 skeins for this sweater.
Needles: the sweater is mostly knit on US 7 needles, with a predictable 5 spi and 7 rpi gauge. Some of the garter was knit on US 6s, and the sleeves were on US 8s because they were knit in the round, which is tighter for me than stockinette knit flat. The gauge measures the same, so I think that trick works for me!
Finished dimensions: 26.5″ chest circumference, 9″ from cuff to armpit, and 13″ shoulder to hem (it's a cropped style).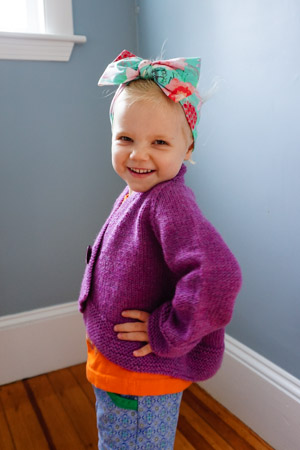 The sweater is a little bit roomy on Sonya… or you can say she's just living her best preschool BlanketLife, all cozy and warm and wrapped up! She loves the big button, which has an intricate purple design that proved difficult to capture in a picture. If you knit this sweater, I would recommend that you try it on to figure out button placement: I didn't get it right just by looking at the sweater and estimating, really had to have Sonya try it on.
5
likes