After recently completing the Satsuma Street stitchalong, I decided to branch out a bit and try other types of embroidery. A few friends suggested checking out the Cozy Blue Stitch Club, and it seemed like the perfect thing – small, not too pricey, and in a way, open-ended, with the possibility of interpreting the design in so many different ways.
I signed up in May, but June's shipment wasn't quite my style, so I didn't stitch it. But July's was a beautiful sunflower with some other smaller flowers and grasses, and I loved it immediately!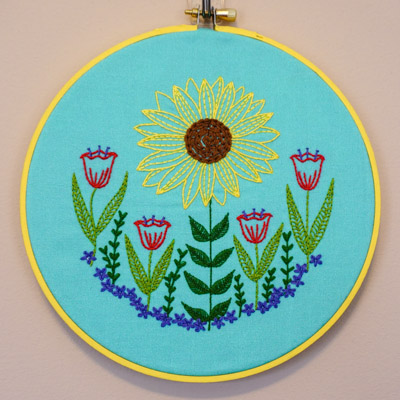 In this one small design, I was able to try out a bunch of different stitches, including backstitch, whipped backstitch, Leaf Stitch, Cretan Stitch, Chained Feather Stitch, chain stitch, stem stitch, link stitch… I used Mary Thomas's Dictionary of Embroidery Stitches and the DK Stitch Dictionary to look up the stitches (both purchased from the "used" selection on Amazon – and both in perfectly serviceable condition!).
I mostly worked with two strands of floss, except the sunflower middle, which is four strands. I stitched through the sampler cloth and a piece of linen (from a forever-ago UFO), as recommended. Mostly this was no problem, but there were some puckered bits in the middle of the embroidery that may have come from stretching the two fabrics slightly differently.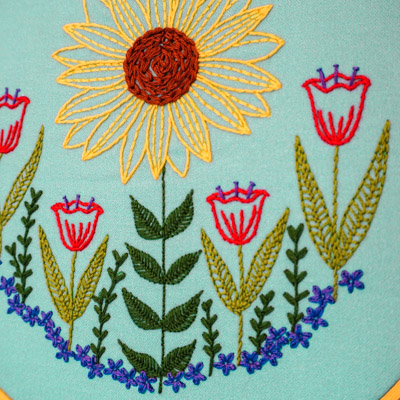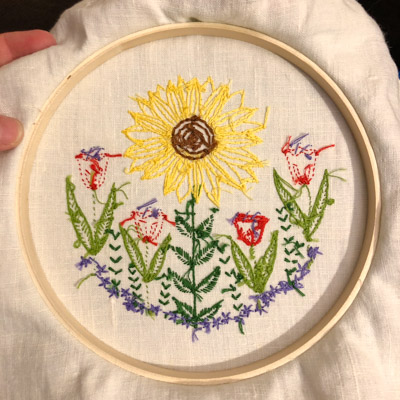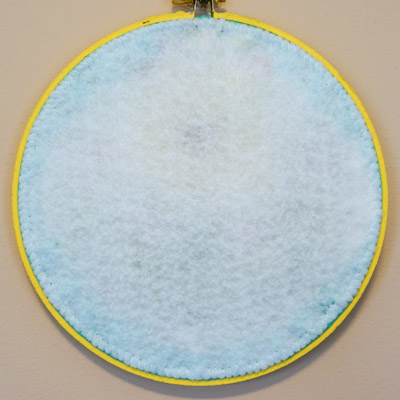 Knowing that I have more of these pieces coming my way, and that I didn't want to spend $$$ each time to get them framed professionally, I bought a 6-pack of 7″ embroidery hoops on Amazon, and followed this tutorial to finish the back of the embroidery work. But first, I painted the hoop a happy yellow, which I thought went nicely with the aqua color of the fabric. The hoop is now hanging on a Command hook in Sonya's room.
0
likes