Back in February, I signed up for the Satsuma Street Secret Springtime Stitchalong. I had never done a mystery stitchalong (and I don't think I've ever done a mystery knitalong, either), but the stakes are so low with cross-stitch because the supplies are really affordable, so I thought, why not? Plus, it's designed by Jody Rice – I've stitched several of her designs, and have always loved the experience.
For several months, I received mystery charts of a springtime-themed design, and stitched and stitched until I was done!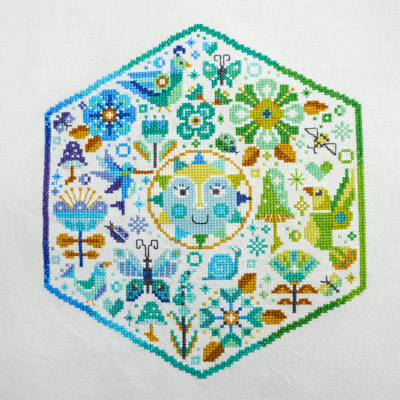 As you can see, I chose the "cool" color palette. The canvas is MCG Textiles 28 count white evenweave, which I purchased at my local Joann's, along with DMC embroidery floss. When stitching "over 2," (in other words, 14 crosses per 1″), the design is about 7.5″ wide x 8.5″ high.
A note about the canvas: after starting, I noticed a visible imperfection in the weaving, and chose to start over on a new piece of canvas. It was the right decision because that portion of the canvas would have definitely been noticeable. Now it's a lesson to myself to carefully examine all canvases before starting my stitching!
I did enjoy making this design, though I must admit I wouldn't have chosen it if I had seen it in its entirety first. For one, I like the warm version better because I think there is more contrast in the elements. For another, all the little "confetti" and single stitches were abundant and maddening to execute. I learned how to work pin stitches, and that helped a lot, but I still found the back of my work to look a-mess, no matter how hard I tried to keep it tidy!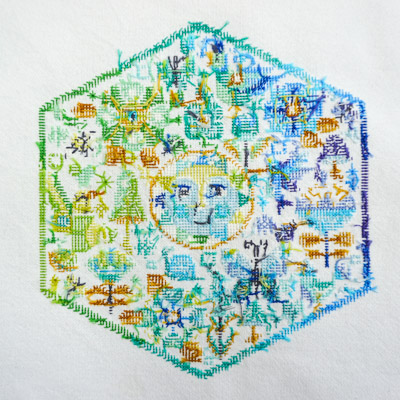 There was a Facebook group organized for this stitchalong, as well as a Satsuma Street FB group, and some folks had remarkably neat backs, I cannot comprehend how they did it!
When time came to finish my work, I didn't want to spend a lot of money getting it professionally framed, like I had Pretty Little City. I saw someone on Facebook finish their work like a banner, and then also saw another banner design on Jody's Etsy page. Armed with 11-year-old grosgrain ribbon and sundry supplies from Joann's (totaling less than $2), I created this lovely banner! I think this was also a good solution for a fairly complicated shape to frame.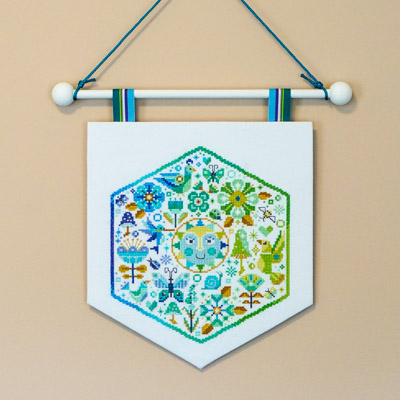 8
likes