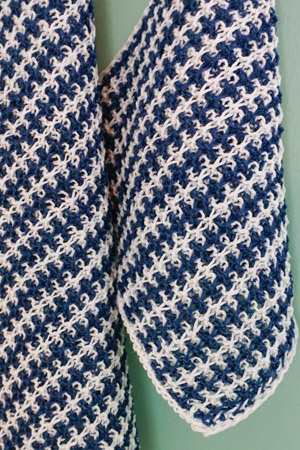 While in-between some big projects, I decided to whip up a quick linen towel and washcloth. Linen is a great change of pace; it's strong, not stetchy, and holds its shape wonderfully to create a very textured fabric. The feel through the fingers is very different than wool, and even different than cotton. And Euroflax linen, in particular, from the lovely folks in Louet, is a standard go-to for many knitters because it's so lovely!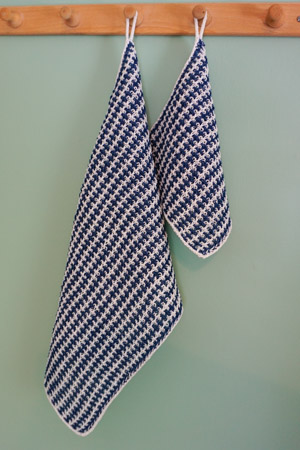 Pattern: Slip Stitch Dishtowels by Purl Soho, "three-and-one tweed pattern" worked over 75 stitches (as written) for the towel, and over 51 stitches for the washcloth.
Yarn: Louet Euroflax in cream (rescued from this 10-year old UFO – love how blogs keep us accountable!) and French blue, about 275 yards/102 grams and 90 yards/33 grams (total, of both colors) for the towel and washcloth, respectively.
Needles and finished dimensions: I used US 3 needles, as specified in the pattern, and the finished dimensions after blocking are is 11″ x 18.5″ and 8″ x 8″.
I made a nifty mod along the right edge of the fabric – where you switch colors – to create a tidy edge for the border. I put the steps in my Instagram stories. I hope you got to see it!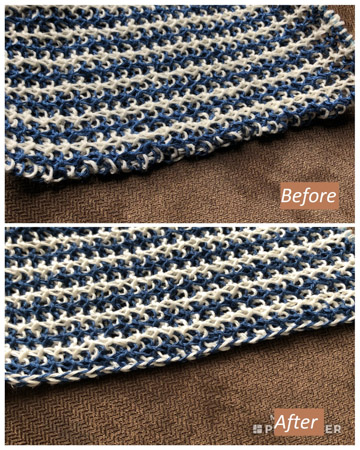 1
like