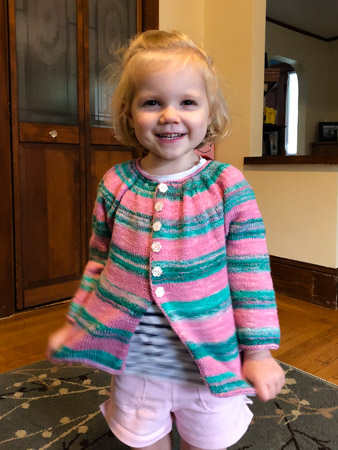 My main reason for knitting this adorable sweater was to replicate (and slightly enlarge) a lovely purple cardigan that Julia of Knitterly Things passed along to Sonya many years ago. You've certainly seen Sonya wearing it on my Instagram, and that sweater is now extremely well worn.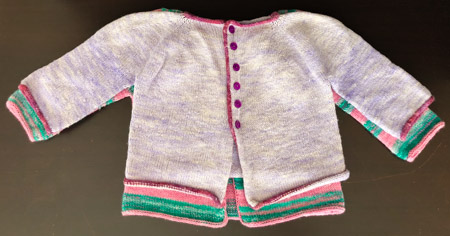 Pattern: Julia originally used the Eole pattern. I pretty much winged this striped version, and, unfortunately, at one point, had to re-knit a huge chunk of it as a result. I also got a bit of help from the LLani pattern, because I wanted the second version to be a little less poofy in the sleeves.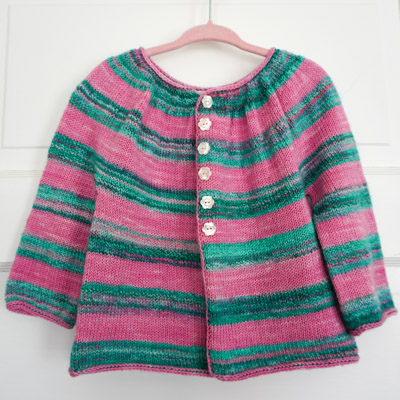 Yarn: I used handspun Sock Hop yarn (color "Free Bird") which I've been hoarding for about 10 years (yeesh!), and pink Koigu (color 2233) which matched it perfectly. I decided to make wide stripes, which has its pluses (you can really see the color of the handspun transition and develop) and minuses (10,000 ends). The sweater used up about 300 yards of Koigu and 390 yards of Sock Hop.
Needles and finished dimensions: I used US 3 needles for a gauge of about 6 spi (fingering weight sweater, oh my!). The finished sweater is: 25″ chest circumference, 6.5″ sleeve length to underarm, and 13″ shoulder to hem. It's definitely smaller than the Carbeth I recently knit for Sonya, so I put it into rotation immediately. She wore it to school today; today's high was 85 degrees Fahrenheit, my crazy child.
0
likes