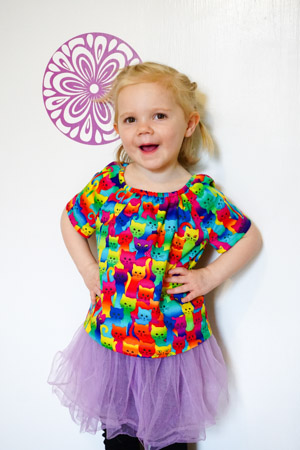 I took Sonya to Joann's several weeks ago to get buttons for this stripey sweater (still WIP-status), and somehow we came home with several cuts of fabric. First, she chose blue fabric for shorts, which became these Honeybuns Shorts. Next, she asked for "rainbow fabric." We quickly walked the aisles, but didn't see anything quite right. Eventually we came across a rainbow cat fabric, and it was love at first sight <3. She wanted shorts, but it's just a woven printed cotton, so not quite sturdy enough for shorts, in my opinion. She said she'd be OK with a shirt, too.
I looked for the simplest possible shirt pattern – no buttons, no snaps, and not too many seams; a peasant-style blouse with raglan sleeves seemed like the best option. I purchased Burda Style #9438 (which, by the way, did not list finished dimensions or the size of the intended wearer on the back of the enveloped), traced the smallest size, and sewed it up. It came out far too big, as you may have seen on my Instagram stories.
Reluctantly, I decided to draft my own pattern using two of Sonya's shirts with a similar silhouette. "Reluctantly" because I find this zero fun, and have no time for it. Anyway, it took some work and several tries, but eventually my pattern looked legit… -ish. I did have to go back to Joann's to get another cut of this crazy cat fabric, because not much remained after my Burda attempt, haha! On the plus side, I had gleaned enough from following the Burda pattern that my homemade attempt went much more quickly and smoothly. While I cannot comment on the quality of my self-drafted pattern, I am confident in saying that the sewing and finishing of this shirt is A+! (I used both my sewing machine and serger.)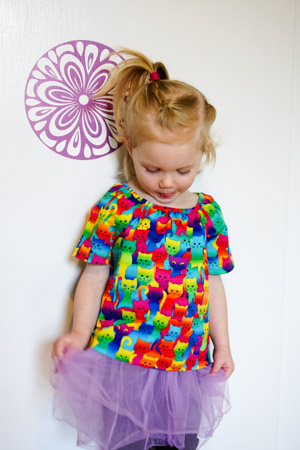 Details: the shirt is about 26″ chest circumference (Sonya's is about 21″), and 13.75″ from top of shoulder to hem; this is about a size 3T. Shirt took about 3/4 of a yard of fabric, plus a length of 1/4″ elastic.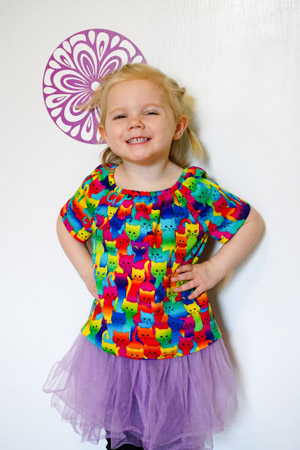 I rescued the fabric from my ill-fated Burda attempt, and used it to make a headband for Sonya and a zippered pouch (from Splityarn Caro) for my cat-crazy work friend!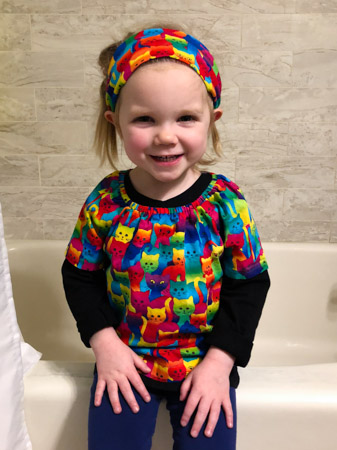 Me: "Sonya, you look so beautiful, let me take a picture of you!"

Sonya: "I look beautiful here and here (points to head and body), but not here (points to pants). So can I have cat pants and cat shorts?"
2
likes