When I saw the lovely Carbeth Cardigan by Kate Davies, I knew it would be absolutely perfect… for Sonya. She loves cardigans, and she also loves to wear t-shirts in all kinds of (cold) weather, so we have several cardigans in constant rotation all through the winter.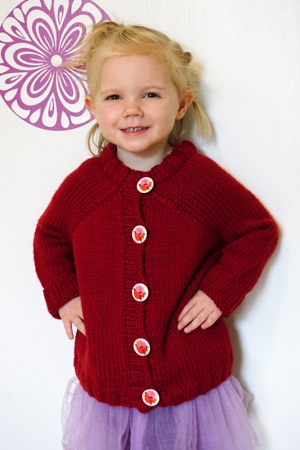 Pattern: Carbeth Cardigan by Kate Davies. Obviously I altered the sizing a bit, haha! I used one of Sonya's cardigans to get the overall desired dimensions, then used the Carbeth pattern to get the proportions and directions for construction. It was fairly straightforward to translate the adult pattern to a mini version.
My only complaints about the pattern are: (1) leaving underarm stitches "on hold," then grafting them later. For me, this never works out as neatly as just binding them off and seaming. And (2), the button band finishing was super fiddly and had a ton of ends, especially compared with the simplicity of the rest of the sweater.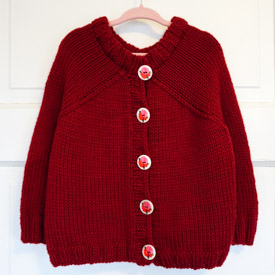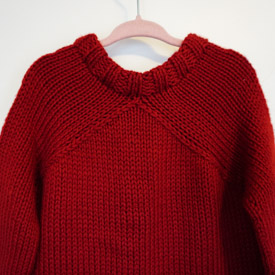 Yarn: Berroco Vintage Chunky, purchased at WEBS. I had Sonya choose the color! She loved most of the reds and blues, and eventually settled on 6134/Sour Cherry. This cardi used up about 257g/334yd of yarn (a bit under 3 skeins). I love this yarn for both its price tag (this cardi used up about $21 worth of yarn), and easy care. It's perfect for kids.
Needles and finished dimensions: I used US10 needles for the stockinette portions at a gauge of about 4 spi. I should have gone up a needle size for the sleeves, which are knit in the round, because my gauge was significantly tighter there than back-and-forth knitting. I think gauge differences and imperfections become more noticeable in chunkier yarn.
The finished sweater is: 27″ chest circumference, 9.5″ sleeve length to underarm, and 15″ shoulder to hem. This is about a 4T size, and should fit perfectly next winter, and maybe even the winter after. The buttons are from Joann's, and look like painted mother of pearl. They are chunky and vintage-y, and very easy for preschooler hands to manage!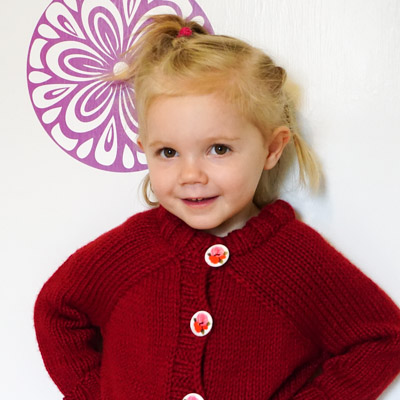 6
likes