Somewhere between here and there, I knit this sweet cardigan for the daughter of a dear friend.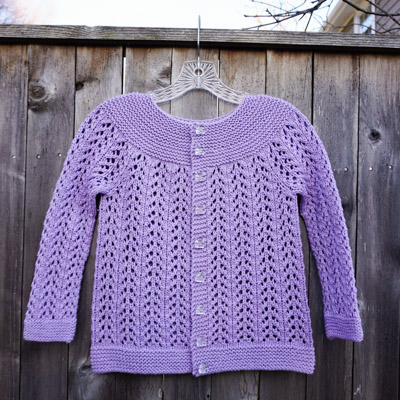 Pattern: primarily, it's a sized-up version of the Baby Sweater on Two Needles (aka, February Baby Sweater) from Knitter's Almanac by Elizabeth Zimmermann. For sizing, stitch counts, etc., I used the Hyphen sweater by Lisa Chemery for guidance.
Yarn: Spud & Chloe Sweater in lilac (7523), a total of about 3.5 skeins, 550 yards. This was my first time using the wool-cotton blend, and it's quite lovely! I hope it holds up well in this lace pattern and doesn't stretch too much. It felt like it could block out quite well if I pulled it, which is not necessarily the best for a sweater. On the other hand, the yarn is machine-washable and -dryable, so hopefully that keeps the shape in check.
Needles and finished dimensions: I used US 8 needles for the majority of the sweater, and US 6 needles for the garter stitch at the collar and cuffs (but not hem). I knit the cuffs in the round using a wrap & turn method:
The finished sweater is: 31″ chest circumference, 12″ sleeve length to underarm, and 19.25″ shoulder to hem. This is about a 9-10Y size, which is a bit of a shame because I was aiming for something closer to 6-7Y size, oops! I even wrote a little note of apology on the sweater label: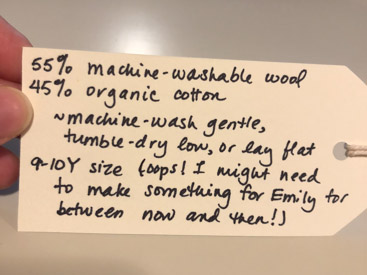 My favorite part of the sweater has to be the buttons! They are rounded cubes with glitter in the middle. A little chunky, a little showy, but I just love them!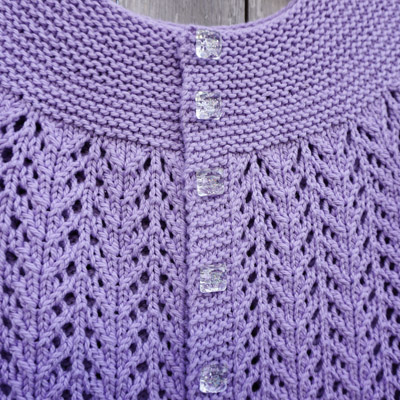 Lastly, I wanted to mention that this sweater is the "upgrade" to the teeny-tiny Inky Dinky sweater I knit 5 years ago. Emily's mom recently texted me a pic of Emily still squeezing herself into the Inky Dinky, even though she's 5 years old and the sweater is for a 3-month old. Nothing warms my heart more than a grateful recipient, so I quickly made it my mission to knit her an upgrade! I think this big girl upgrade will do!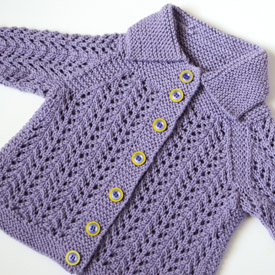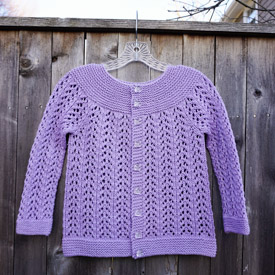 2
likes