On Black Friday, I finally took the plunge and bought myself a Brother 1034D serger. Many of my friends have this exact serger, and it is well known as a great intro-level machine which doesn't break the bank. Although I paid a little bit less on Black Friday than the currently-listed price, the machine is still well under $200, which is just fantastic.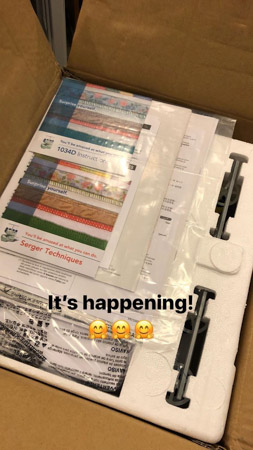 That picture is from my Instagram story the night that I opened my serger and used it for the first time! I hope you can follow me there – I post little bits of crafting progress fairly often.
I did have some issues with the knob controlling the stitch width, and after Brother customer support confirmed the issue, I exchanged my machine through Amazon. Good thing I was within the allowed Christmas-time exchange window! But a note to you – should you decide to buy this machine or any other, please do test it out before your exchange/return window closes!
Anyway, with the replacement serger set up, it was time to try my first project. I thought a simple pair of girl's shorts for my daughter would be easy enough.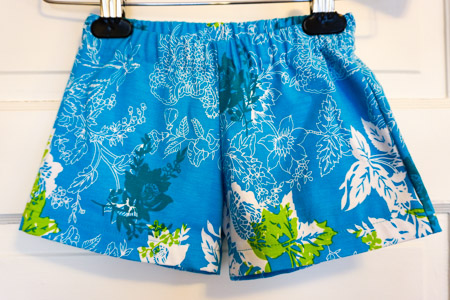 Pattern: Kid Shorts by Made Everyday with Dana. Nice, straightforward pattern with accompanying tutorials online to make lots of mods like pockets, trims, etc. I had to do a little bit of my own interpretation about where to use the serger versus regular straight stitch, but I think that's common for many patterns.
I made the 3Y size, which is the smallest graphed size for kids without a diaper. This size is a little bit big for Sonya, but there's always next summer.
Fabric: something from the stash; looks like a medium-weight 2-way stretch cotton. It was pre-washed, a happy color, and I had the right yardage, so it was an easy choice.
Using the serger: It was very easy! My friend Christina mentioned that a neutral thread like gray, light pink, etc. is a great option for most fabrics, so I used light gray and it worked out just fine. It took a little bit of futzing to figure out how a drafted 3/8″ seam allowance translates into the correct seam in the serger. I ended up marking the fabric with a pencil 3/8″ from the edge, and experimenting with where to feed the fabric so the line would be at the seam.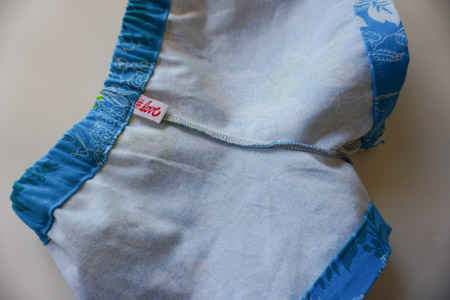 Here you can see some of those overlocked seams, as well as a #love clothing tag to mark the back of the shorts.
Next, I want to try a pair of shorts for Sonya with pockets. Sonya loves to collect pine cones and rocks and little things she finds outside, and pockets are key! I also really want a pattern that walks me through where to use an overlock versus a regular machine. I think I found the perfect pattern right here – Little Honeybuns shorts from the Pattern Emporium – and I can't wait to try it!
0
likes