The Pretty Little City cross stitch pattern by Jody Rice of Satsuma Street was an absolute delight to make!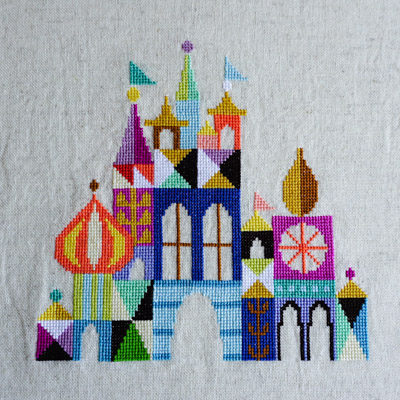 I finished this pattern fairly quickly. I think it just flew by because there are small, colorful sections to stitch, and they don't drag, at all! (In contrast, the Arcadia pattern I'm working on right now is really dragging, I'll be honest, with swaths and swaths of whites and off-whites and more nearly-whites.)
Pattern: Pretty Little City by Jody Rice of Satsuma Street. There was a small "oops" in the gold-on-dark pink branch on the left, but it wasn't intended. I did intentionally make the double arches identical, in both spots where they appear, because I wanted them to look symmetrical.
Fabric and floss: I used DMC Carolina Linen in Sand, which I absolutely love. It has a natural color with tiny dark flecks. I also love the look of cross stitch on evenweave, versus Aida, and the tightness of the weave of this fabric works really well for me. This particular fabric has been my favorite of all I've tried so far. The floss is DMC embroidery floss, using 2 strands.
Finished dimensions: My chosen fabric is worked at 14-count, versus the pattern which is written for 18-count. So my Pretty Little City ended up being about 7.7″ square before framing. For framing, I turned to my local Joann's, where I've had a ton of stuff framed in the past, always with great results. They were once again great, even accommodating a last-minute change of heart about the mat color :). The framed work is 16.5″ square.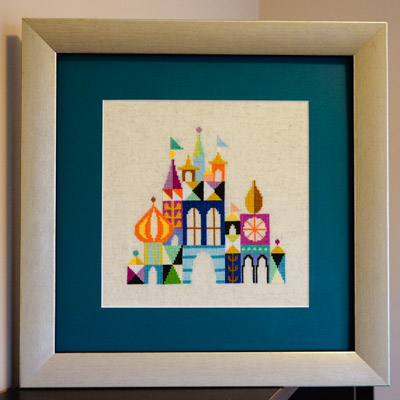 I really love how this all came together! This Pretty Little City joins the two Satsuma Street Christmas ornaments I made last year (tree and bell), and I look forward to making more!
3
likes