This year, my family and I went to the New Hampshire Sheep & Wool Festival in May, where I bought 5 skeins of Green Mountain Spinnery's Sylvan Spirit in agate.

The beautiful thing about buying this yarn at the booth, versus online, is that I saw it knit up in a variety of projects, and knew that although it seems wooly in the skein, it blocks to a very soft, drapey, cushy fabric. The yarn is a blend of 50% Targee wool, and 50% Tencel Lyocell.
The fibers differ in the way they take up the dye, and the resulting color is rich and heathered. Indoors, or in dim light, the color is closer to aubergine, as you see above, but outside, the color is more violet. I knew that the yarn would be best in a simple stitch pattern, and I chose Ischl by Monie Ebner.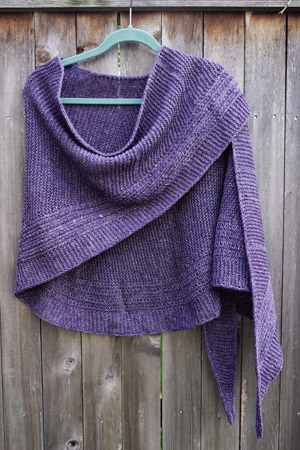 Pattern: Ischl by Monie Ebner, worked without mods. I have only one comment about the pattern. In the "Notes" section on page 2, there is a recommendation to work the right i-cord loose, and the left i-cord tight, and I think those recommendations should be reversed, meaning, left (outer edge) i-cord loose, and right (neck edge) i-cord tight.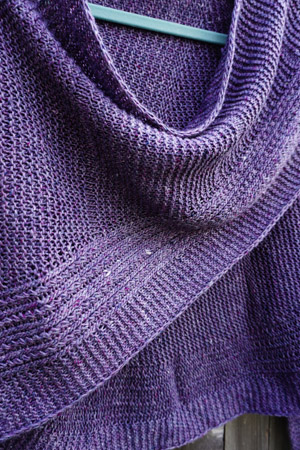 Yarn: Green Mountain Spinnery Sylvan Spirit in agate, about 260 grams and 807 yards (4.5 skeins).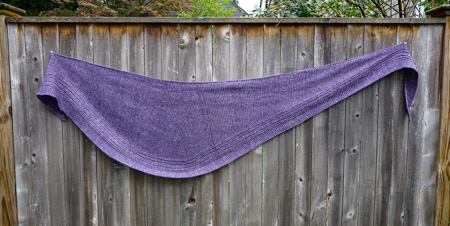 Needles and finished dimensions: I used US 7 needles. After blocking, the shawl is a whopping 105″ across the top, and 22″ deep at its deepest. The overall shape is that of a boomerang. It is perfect for wrapping up around yourself on a chilly autumn day.
4
likes