Do you follow me on Instagram? As I've been knitting the Braidsmaid shawl, I've been posting progress shots and videos there, even those "my story" ones! It's been a lot of fun!
By the way, if you want an Instagram stream to pop up in your blog reader (maybe you aren't attached to your smart phone in the same way I am!), there are ways to generate an RSS feed from a user's Instagram!
Anyway, the Braidsmaid shawl is done, and it was a fantastic project! Just the right mix of interesting design and mindless knitting.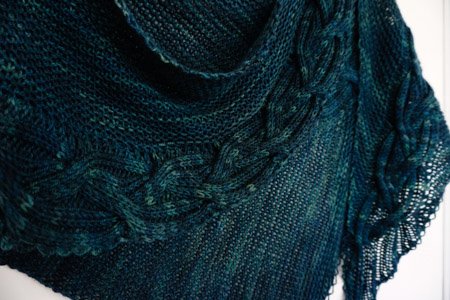 Pattern: Braidsmaid shawl by Martina Behm of Strickmich! As I mentioned above, wonderful pattern. The shape of the finished shawl is asymmetric and difficult to describe. It's a triangle, but not quite. And see how the cable runs down the middle at first, but then moves to the edge – cool, right? (It was challenging to block, I'll tell you that!)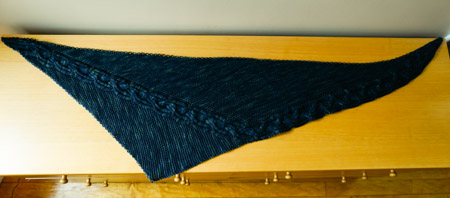 I did modify the beginning and ending corners, making them pointed rather than blunt, as originally written.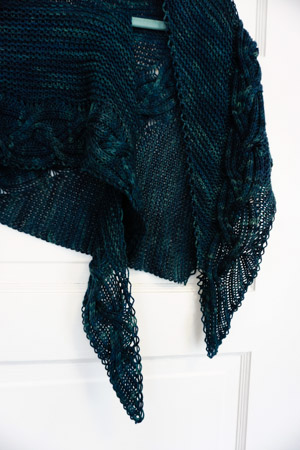 Yarn: Spirit Trail Fiberworks "Birte," which is a DK-weight 75% superwash merino/15% cashmere/10% bombyx silk, in the colorway "Moonless Night." I had 2 skeins, and tried to use up as much yardage as possible. I came close! About 14 grams remain, and so the shawl used up about 212 grams/516 yards. The color is mysterious and impossible to capture. From afar, it looks black, or almost black. Up close, it is blue and green and indigo and forest murk.
Needles: Though the pattern specified to use US6 needles, I thought the fabric came out too dense when using them, and sized up to US7s. The cables in this pattern crossed 8 stitches over another 8, which I couldn't do that without the use of a cable needle, so I ended up using a short circ to help me with that.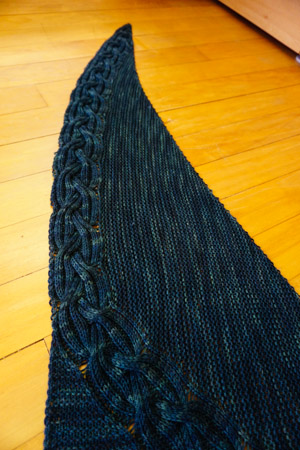 2
likes