Sonya has a Wee Liesl sweater that we got from a friend, and the scalloped edges are just the sweetest, don't you think?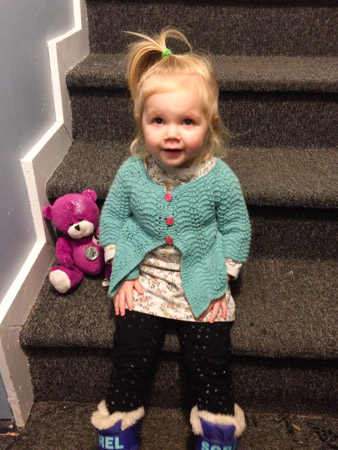 I love this sweater so much, that I knew I'd eventually have to knit one myself!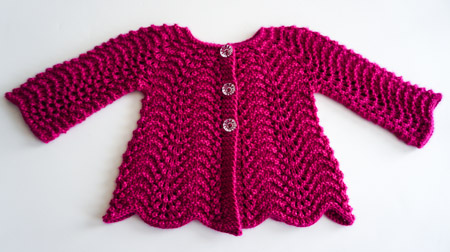 Pattern: Wee Liesl by Ysolda. I made no mods to this perfectly-written pattern, except using the "reinforced eyelet" from Montse Stanley's Knitter's Handbook. I knit the smallest size.
Yarn: Studio DK 100% superwash merino in Charles Village, by Neighborhood Fiber Co. This amazing little sweater took just a little bit less than one full skein.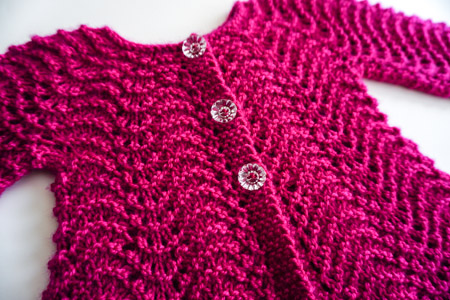 This was my first time working with Studio DK yarn, and I loved it. The yarn is crisp and textured, but not overspun. It shows off the stitch pattern beautifully! I think it will wear very well, and I wouldn't hesitate to use it even for something like mittens – I think it's sturdy enough, despite being 100% merino! This particular colorway did bleed when I blocked the sweater, even after many rinses, but I think this is common for deep, saturated reds.
Needles and finished dimensions: I used US 4 needles, and my pattern gauge was about 22 stitches per 4″ of knitting. The dimensions of the sweater are: 16″ chest circumference, 5.5″ sleeve length to underarm, and 9.5″ shoulder to hem.
8
likes