As best as I can tell from my blog archives, this little project is almost 6 years in the making! I think I originally started it as a gift for someone expecting a baby girl, but jumped ship when I just couldn't get the picot-edge front band to look nice, no matter what I tried. I think the problem was mine alone, as there are plenty of perfectly flat picot bands on Ravelry – I'm not sure what happened!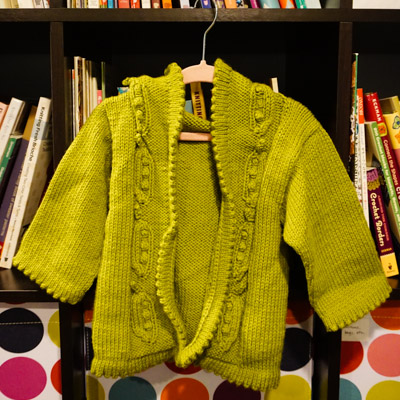 Before
Years later, with a little girl of my own, I finally found the impetus to finish the project, once and for all.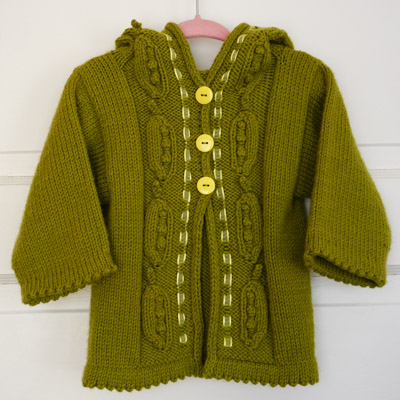 After
I ended up taking out the picot-edge band entirely, and instead knitting an attached i-cord, leaving a few stitches free for the buttons. I used the Silverfox Bonnet pattern for the i-cord directions – very clear, and very simple to skip some stitches for the buttonhole openings.
The pattern left a purl space for sewing on ribbons, but sewing seemed so tedious to me after 5.5 years. So, I just wove through one ribbon to fill that space; it was very simple, and got the job done.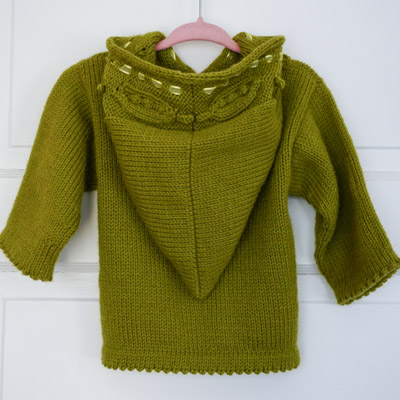 After all was said and done, there are still a few fit issues. The sweater is pretty snug across the chest because I took out the picot band, which would have added a good 2″ or so. The sleeves are very boxy for even toddler sausage arms. The hood is huge – huge on the wearer's head, and heavy enough to weigh down the sweater in the back.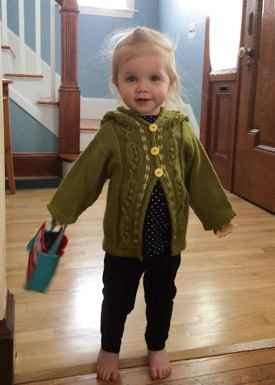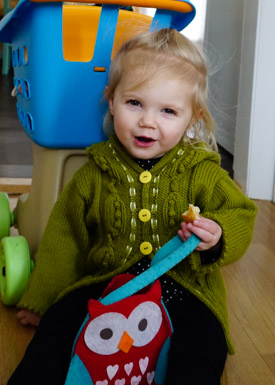 But she sure looks cute wearing it, right?!?
Pattern: Sweet Pea Cardigan from 60 Quick Baby Knits (I wrote a review of this book 6 years ago, if you're interested!). I couldn't find my original notes from this project, so I don't know what size I knit.
Yarn: Berroco Vintage, a yarn I love to use for kids' knits. I used about 2.5 skeins for this project, in the colorway wasabi, which appears to be discontinued now.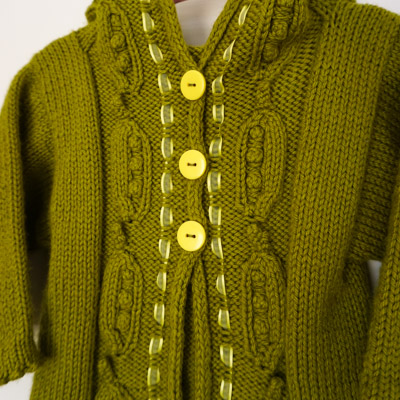 Needles and Finished Dimensions: I'm pretty sure I used US 7 needles, because I got my standard Berroco Vintage gauge of 5 spi and 7 rpi. The sweater is: 21? chest circumference, 8.5? sleeve length to underarm, and 13.25? shoulder to hem.
6
likes