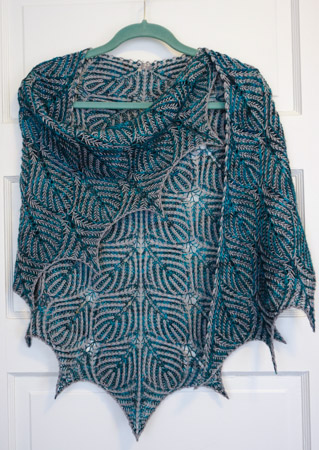 For something so beautiful, it sure was a pain to knit! I keep thinking, why was Champagne Bubbles (also 2-color brioche, but with bonus! lace!) so much easier? I think because Champagne Bubbles is quite narrow, so it was no big deal to tink a few rows, if I made a mistake or dropped a stitch.
With this project, however, the rows just kept getting longer and longer and longer. Dropping down to fix mistakes proved impossible because it's hard (impossible?) to tell which yarns go in front/back in this type of double knitting. Tinking was dreadful, because each pattern row is created by knitting the work 4 times. Arrrgghh! So, I'd mess up a decrease somewhere, find the mistake the next time I'd need to decrease above it, and as a result, would have to tink hundreds of stitches (half of them having overs), and GAH.
Someone left a brilliant comment on my Instagram, cluing me in to using dental floss to create an instant lifeline. The trick is originally Clara Parkes'. It was a life-saving tip, and gave me the push I needed to finish the work. I put in lifelines frequently, and used them frequently, as well.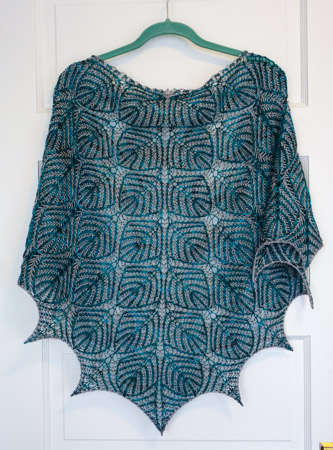 Pattern: 2-Color Under the Dutch Skies Brioche Shawl by Nancy Marchant. Some noteworthy changes that I made are as follows:
I used the darker color for the LC, which is kind of like the "main color" in 2-color brioche. Typically the LC is worked using the lighter color.
I changed the edging. I was really bothered by the edging in the original; it seemed to lack that signature center point. I read and re-read Evelyn Clark's Knitting Lace Triangles a thousand times, and finally figured out how to alter the 2-color brioche pattern to make a point in the center.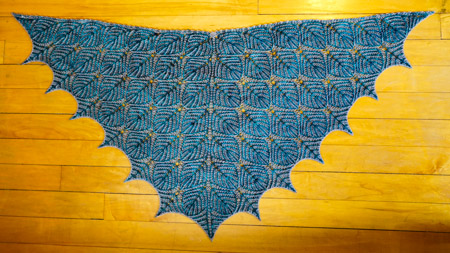 Yarn: Madelinetosh Tosh Sock Yarn in Esoteric (about 315 yards) and Great Grey Owl (about 320 yards). Gorgeous yarns. Esoteric has a bit of variegation to it (one of the reasons I didn't want it to be the "background" yarn), while Great Grey Owl is solid.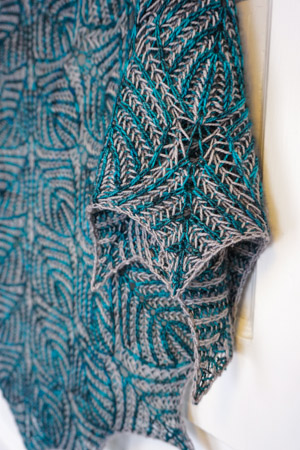 Needles and finished dimensions: Using US 6 needles, and after blocking, the shawl came out 53″ across the top, and 26″ from top edge to the point. I also used a cable needle (a super simple Susan Bates one) to make the big, central decreases, which merged 8 strands of yarn into 1.
Save
15
likes