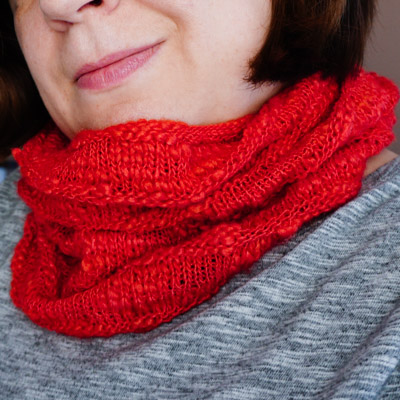 Pattern: Simple Yet Effective Cowl by Tin Can Knits. Great pattern. The combo of knit and purl ridges makes the cowl scrunch down nicely. Rather than purl, I wrapped-and-turned when time came for the purl sections, knit them, and then wrapped-and-turned again for the next section. Rinse, repeat, no purling, at all!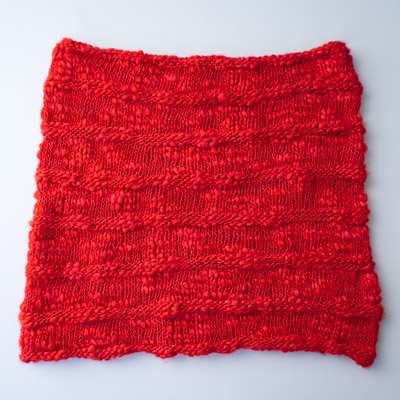 To knit this cowl, I cast on 110 stitches, and then worked a decrease about ever 1″, so that the cowl is somewhat slimmer at the top.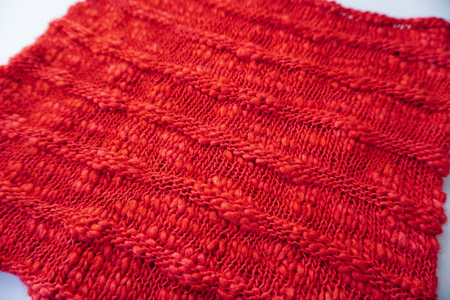 Yarn: Brooks Farm Ellie, 50% wool/50% silk. The cowl used about 60 grams of yarn, slightly more than 200 yards. If my memory serves me correctly, this yarn is from Rhinebeck 2010!
This is a wonderfully textured, luxurious, thick and thin yarn. It can't handle much more than stockinette or reverse stockinette, but I have been eyeing Amy Herzog's recently-published Deep Current Cowl as another pattern which might work for this yarn (since I have plenty still in my stash). The deep, saturated, tomato color is absolutely stunning.
Needles and finished dimensions: US 7. After blocking, my gauge was about 4.5 spi using these needles. The cowl is about 23.5″ around the bottom, 20″ around the top, and 9.5″ deep. I think it could have potentially been a bit deeper, maybe between 10-12″, but definitely not smaller than 20″ around the top, or else it wouldn't fit over the head.
4
likes