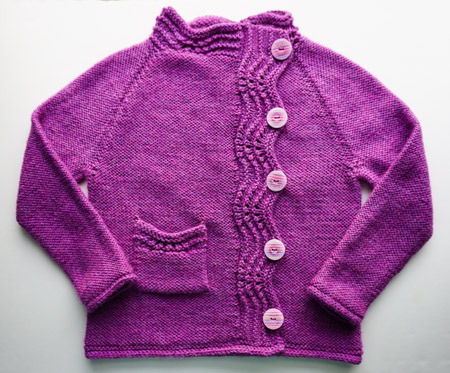 Oh, it is a lovely FO. Working the pattern definitely gave me some pause, since I'm not used to reverse stockinette as the main fabric. Seaming, picking up stitches, attaching the pocket, all done after a full day of working and parenting, of course – not an easy task on those purls! Working the sleeves inside out, as knits, was somewhat problematic because they wanted to fold in on themselves once righted. I think blocking helped. Plus the feather-and-fan elements have a life of their own, and tugged and pulled at the most inopportune moments. But I pushed through, and it is lovely. The recipient's mom seemed delighted :).
Pattern: Wee Levenwick by Gudrun Johnston, third size (6-7 years).
Yarn: Berroco Vintage in Fuchsia/51176. This sweater used up about 260 grams, 560 yards. The colorway is seriously gorgeous. It is bright and deep, youthful and sophisticated, and would work well for a newborn or a great-grandma.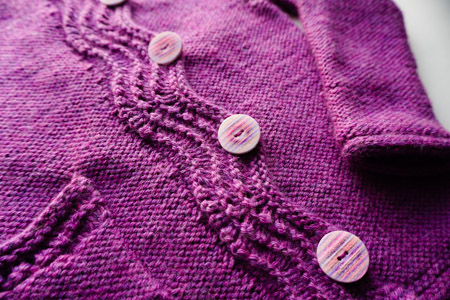 The buttons are standard issue from Joann's, but worked really well with this sweater.
Needles: As suggested in the pattern, circs in US 5, 6, and 7. I didn't measure my gauge, but I assume it was my standard 5 spi and 7 rpi on US 7 needles.
Finished dimensions: about 27″ chest circumference, 16″ shoulder to hem, and 11″ from the underarm to the cuff. My sweater came out a little smaller than intended, but even so, comparing the pattern measurements to some off-the-shelf garments, I think it is sized a little small. I'd check the measurements of the recipient's favorite cardigan against the pattern schematic before choosing a size.
7
likes