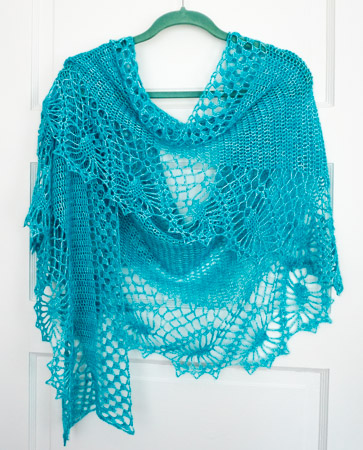 Pattern: Oswin by Bernadette Ambergen. This was a fantastic design which combined a lacy, ambling pineapple edging with a sturdy scarf body in a pattern which was enjoyable and fun to crochet! The chart was easy to follow, and after some time, easy to remember by heart (written instructions were also provided, but I didn't use them).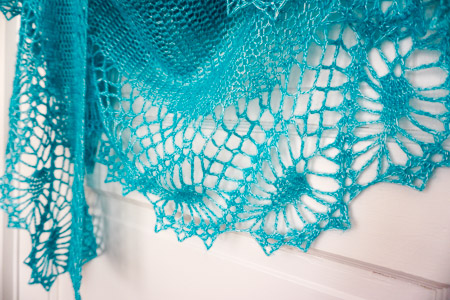 Yarn: Lana Grossa Lace Lux, #21, almost 3 skeins, approximately 900 yards. The color is a spectacular light turquoise which proved impossible to capture with either my phone or my camera. This is the best I can do after a lot of tweaking in Lightroom.
I went with the exact yarn recommended in the pattern because I couldn't figure out a good substitute, and I'm glad I did! This yarn is 67% rayon and 33% merino, but has the sheen and halo of those silk-mohair blends. It's an excellent substitute if you want the mohair yarn look, but no the mohair-ness. Now that I've worked with it, I think Madelinetosh Tosh Merino Light would be a good substitute for the Lace Lux in this pattern.
Hook and finished size: size F/4.0mm by Clover, from my favorite crochet hook set; scarf is 20.5″ deep and 90″ across! That's quite long for me: I usually prefer scarves and shawls which are between 60-70″.
I was quite charmed by this pattern, and really look forward to crocheting more designs by Bernadette – check them out! Mila looks like a good choice to me!
4
likes