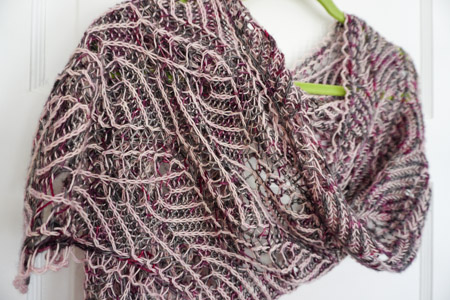 Here it is, my very first two-color brioche project, with bonus! lace.
Pattern: Champagne Bubbles Brioche Lace Scarf by Nancy Marchant, from the Vogue Knitting online store. I knit it without modifications.
This pattern is more than a pattern, and well worth the $7 price tag. In addition to actual knitting instructions for this scarf, there is an article/picture tutorial about two-color brioche knitting with lace. There are also detailed instructions about brioche-stitch abbreviations and working basic decreases. Really, it's a great primer and has everything you need to get started on your own brioche adventure.
I did heavily use Nancy Marchant's Knitting Fresh Brioche book throughout this project, especially for cast-on and cast-off instructions. It is an invaluable resource. Here's my book review from last year.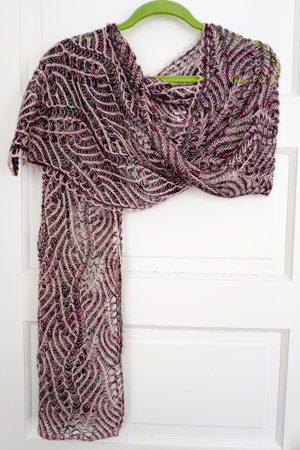 Yarn: Madelinetosh Tosh Merino Light in Black Velvet and Rose, about 65 grams (less than 1 skein) of each color (the finished scarf weighs 135 grams). Very lovely yarn for this project. In brioche knitting, the main color – the lighter Rose, in this case – really takes center stage. I want to knit another project where Black Velvet is the star, because it's a gorgeous colorway that only got to play the "background" role here.
Needles: Addi Turbo circs, US 7. The finished dimensions of the scarf are 68″ x 13″.
It took a little while for me to master the two-color brioche technique, but I'm so glad I took the time. Once I could "read" my knitting, and know where to pick up my knitting after setting it down, I really enjoyed making all those intricate, loopy, tangled stitches. I think a single-ply yarn worked really well in this project, the fabric is soft and drapey, and the stitches are so nicely defined. Would knit again!
15
likes