Gregory's socks only took about 75 yards of yarn, so the skein issues didn't stop me from finishing.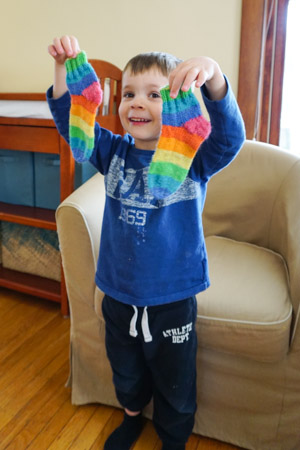 He absolutely loves them, and next up he'd like me to knit him a pair of rainbow mittens! He does say they have "spikes," and only wears them on top of regular socks, so it looks like someone inherited his mom's wool sensitivity, sigh… (I ordered him some cotton rainbow socks for layering purposes.)
Pattern: generic socks worked over 36 stitches with an OMG heel. I reached for this heel because I knew it wouldn't interrupt the striping, and because I didn't want to bother with traditional short rows. Worked out perfectly!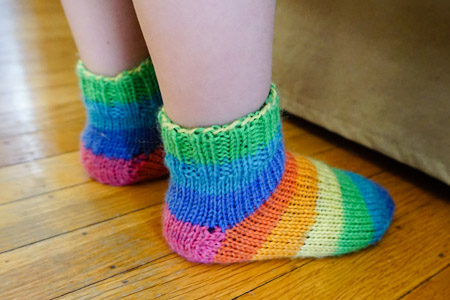 Yarn: Regia Stripemania Color 6-ply yarn in 6367/rainbow. As I mentioned, I only used a tiny fraction of the skein.
Needles: US3 metal dpns. My gauge was about 6.5 spi.
These were such a quick project. Remember a few years ago we were all into Last-Minute Knitted Gifts (OMG, that book was released more than 10 years ago! How?!? I guess more than a "few" years ago, ha), except none of the projects were truly "last-minute"? Well, these socks were incredibly fast to knit given the slightly thicker yarn and small feet of the recipient ;).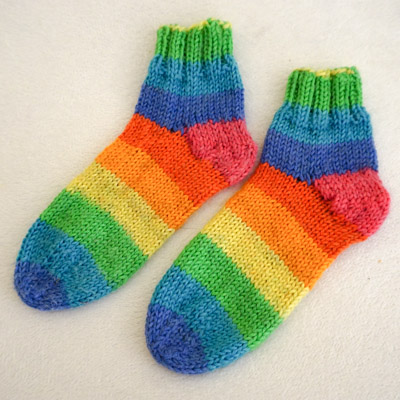 4
likes