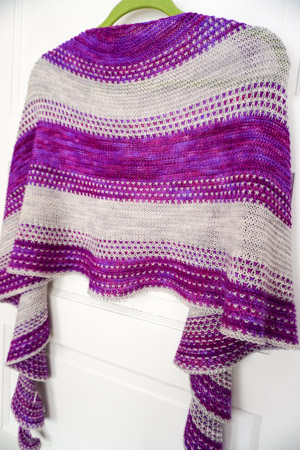 So, this turned out very nicely!
Pattern: Sand Layers by Lisa Hannes/maliha designs. I knit the pattern exactly as written, and it was great. The last few sections, when each row had 400-500 stitches, were kind of a drag, but I plowed through.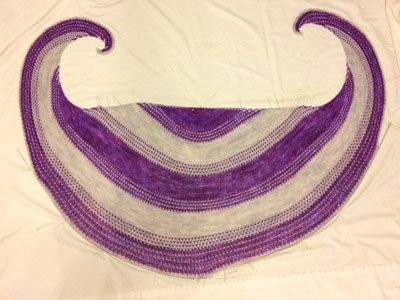 This was my first time knitting one of these uber-crescent shaped shawls, and I wasn't totally sure how to block it. I see most people just plop them down on a towel, but I wanted to stretch it a bit, so ended up threading the meaty, middle portion of the shawl on blocking wires, and leaving the tail ends free.
Yarn: magenta is Madelinetosh Tosh Sock yarn; gray might be, as well, but I'm not 100% sure. Both yarns are from my stash!
I was worried a bit that the magenta would bleed onto the gray after a reader mentioned it, but although there was some dye lost during blocking, it wasn't a lot, and it didn't settle on the gray, phew!
Needles: US 5 and 6 Addi Turbo circs, exactly as specified in the pattern. Finished size is about 17″ deep and 56″ wide over the meaty part.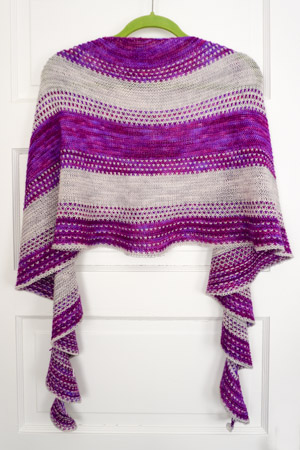 Whenever I see a pattern using more than one color, especially one like this, where the yarn will be broken and there will be ends to weave in, I always second-guess myself and wonder whether I should just pick something one-color. But weaving in ends on this wasn't bad at all. I also think this shawl would look great knit in a gradient of colors (though the outer-most sections would consume significantly more yarn than the inner ones, so the mini kits so popular nowadays won't quite work).
12
likes