Accessory emergency has been addressed!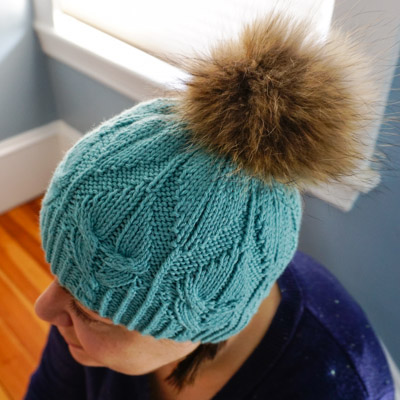 Pattern: Fuego Hat by Justyna Lorkowska of Lete's Knits.
This pattern is one size, and I knit it without mods. You'll notice that my hat doesn't have any of the slouch of the original – that's because my row gauge is tighter than specified in the pattern – 7 rounds per inch versus 6 – and this makes all the difference! I might go back and add a few plain rounds (4?) to make the hat just a tiny bit longer, though I'm happy to skip the slouch.
Yarn: Berroco Vintage in Gingham, about 60 grams/130 yards.
Needles: US 6 and US 8, as specified in the pattern.
Pom: You might be wondering about the giant pom-pom. My husband says that it looks like an animal died on top of my head. First of all, it's not real fur. Second of all, I don't care – my casual observations of folks on the train suggest that giant poms are IN, and so I chose a hat that I knew could support a super-giant pom-pom. The pom came from  this hat on Amazon, and I just love it. It adds about 4″ to my height without the mess of heels :).
Here's the hat in action with my cookie-loving lovie: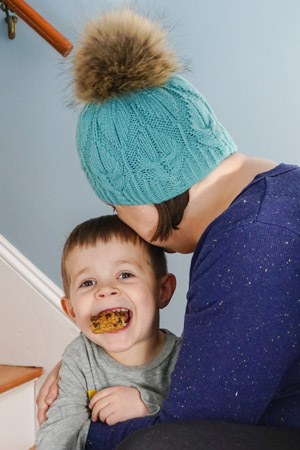 4
likes