It's the middle of February, we have single-digit temperatures, but Sonya's spring poncho is finished! I think I got the sizing just right, it should fit her well in May (maybe even April! One can hope.), once the temperatures are a bit warmer.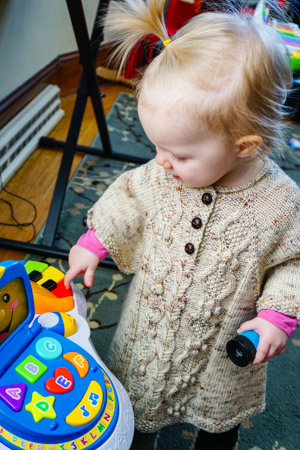 Pattern: The Little Tourist Poncho by Jenni Lansing in the 18 month size, with no changes to the pattern at all! Well, one small change – I used the cables from the Silverfox Cardi for the panel of cables which runs down the center of the garment.
Yarn: Madelinetosh Tosh DK in modern fair isle, 2 skeins and no more than 10 yards from a third, which is exactly what the pattern states. I originally bought only 2 skeins (450 yards) figuring that should be enough, but nope, I needed the specified 460! That'll teach me!
As I mentioned earlier, I striped the 2 skeins throughout the work, either every 2 rows (when working flat) or every row (when working in the round), to make sure that any differences between the hand-dyed skeins wouldn't be evident in the fabric. Even though the yarn has quite a bit of color sprinkled throughout, I was happy with the texture of the cables.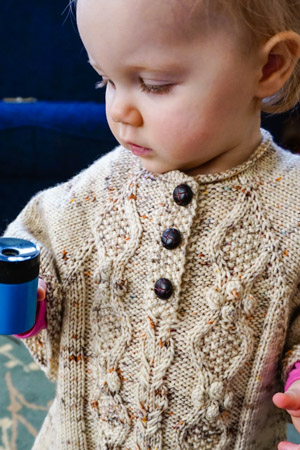 Needles, gauge, and finished dimensions: US6 Addi Turbos, which gave me the required 22 stitches and 28 rows per 4″ of circular knitting. The finished measurements after blocking are: 26″ "waist" circumference and 16″ long from the back of the neck. I think the dimensions and proportions are spot-on for my toddler :).
As I was photographing Sonya in this poncho, I couldn't help but remember photographing Gregory at about the same age wearing the Deer Dress. Here are my cuties, side by side: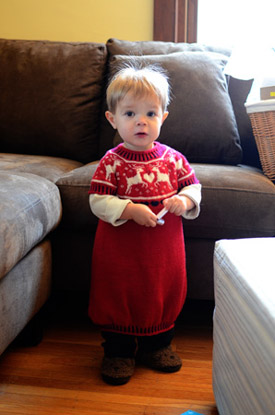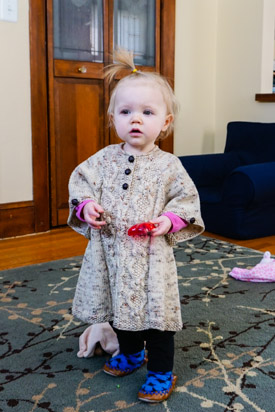 4
likes