These are the 2015 Christmas balls: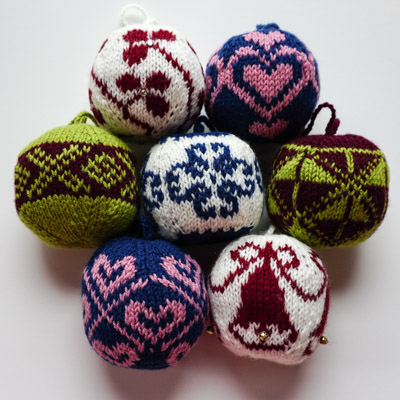 Pattern: 55 Christmas Balls to Knit by Arne & Carlos. Very conveniently, just around the time I was making these balls, Arne & Carlos posted a Christmas ball tutorial, which helped me tremendously in the finishing aspects.
Yarn: Rauma 3-ply Strikkegarn in a variety of colors – leftovers from our family's handknit Christmas stockings.
I threw in some bling for the last 2 balls I knit (the white and dark red ones) – one has little Swarovski crystals which are glued on, and the other has teeny jingle bells.
Needles: US3 Clover bamboo dpns and 3.25mm crochet hook for the chains.
For displaying these, we strung a ribbon across the decorative windows in our dining room, and hung the balls on it.

As you can see, there is plenty of room left over for more balls – I'm hoping to knit a handful every holiday season!
5
likes