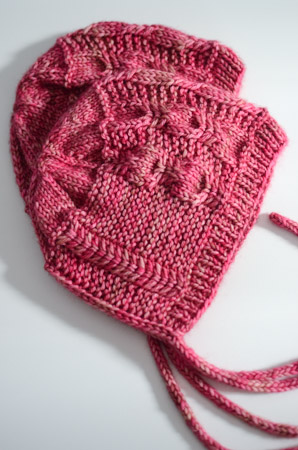 A quick post to share with you these delightful Silverfox bonnets I knit a few months ago. If you remember, I knit the Silverfox cardi for Sonya a while back. The matching bonnet pattern is also really cute, don't you think? The best part, I could knit 2 of the "baby" size out of 1 skein of MadelineTosh Tosh DK Yarn! I thought they'd make a great, quick gift, and shipped them off to two little ladies who were born in July – I hope they'll enjoy wearing them this fall!
Pattern: Silverfox bonnet by Lisa Chemery for frogginette, size "baby." Having knit the cardi, the bonnet pattern was really easy to execute. I thought the i-cord and applied i-cord instructions for making the ties were superb.
Yarn: MadelineTosh Tosh DK in fragrant, about 90 yards for each bonnet. I loved working with this yarn, and I loved this colorway, which is sweetly girly, solid enough for cables, but a little variegated for interest. Reminds me of the color of rhubarb!
Needles: US4 and US6
3
likes