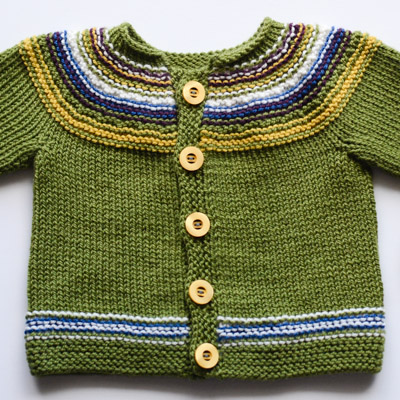 I love the way stripes look in garter stitch, or on the purl side of stockinette, with little semicircles of different colors bumping against each other. So of course I immediately loved the Playful Stripes pattern when I saw it!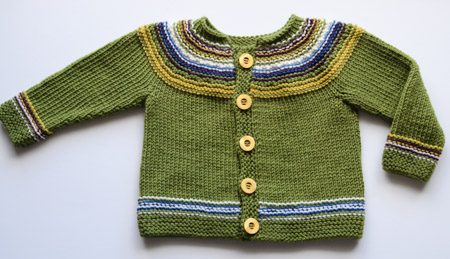 Pattern: Playful Stripes by Alana Dakos. I knit the smallest size (3 months), with some modifications to account for my different gauge. I also knit a garter stitch button band instead of a ribbed one, with one-row buttonholes from Montse Stanley's Knitter's Handbook.
Yarn: Louet Gems merino sportweight in fern green (80-2393), cream (80-2303), eggplant (80-2423), french blue (80-2573), and goldenrod (80-2653). The sweater used up less than 1 skein of the main color, and just scraps of the other colors.
Needles: US3 and US5. My gauge was about 6 spi and 8 rpi.
Finished dimensions: 17.5″ chest circumference, 5.5″ from cuff to armpit, and 9″ shoulder to hem.
I really enjoying knitting this pattern. I know stripes = extra work weaving in ends, but I think multiple colors in kids' garments are worth the extra effort. The little person on the receiving end of this sweater (it's not yet known whether it's a boy or girl) is due to arrive at the end of September, and I think he or she will look lovely in this sweater this fall.
15
likes