You know how they say, never go to a supermarket when you're hungry?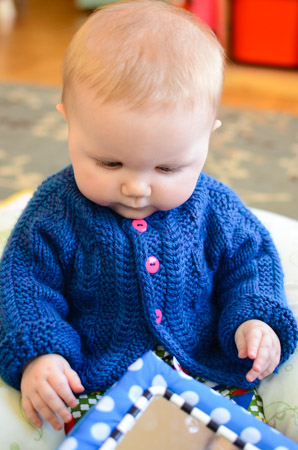 I started knitting the Silverfox Cardigan for Sonya in the middle of February, when there were still several feet of snow on the ground. Being in a winter state of mind, I chose the 6-month size, thinking that she'd wear it on chilly mornings in May and June.
Ha!
It seems that spring bypassed us entirely this year, and now that the cardi fits, we have already entered summer. So, when will Sonya actually wear this cardi? I'm not sure. I might save it and give it away as a gift to some lucky little girl in the future.
Pattern: Silverfox Cardigan by Lisa Chemery for Frogginette knitting patterns. I knit the smallest size (6 months). I love this cardigan – its texture is very rich, the cables are eye-catching, and the i-cord edging finishes it off nicely.
But I found the pattern difficult to follow, both in terms of formatting of the directions (as in, the way the text appears on the page), and abbreviations. It also had some unusual style choices, like starting the sleeve cables at the yoke instead of having them run down the entire sleeve. I made that mod, and a few others, like keeping the direction of raglan decreases uniform, and widening the neck opening a bit.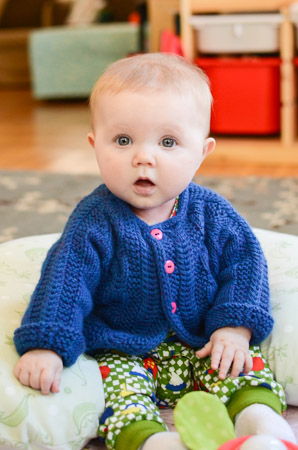 cables down the whole sleeve
Yarn: One of my favorites for baby knits, Berroco Vintage, in Blue Moon (51191), about 1.5 skeins. This beautiful blue colorway has a pink halo that I just love!
*Seriously, this yarn is the best for baby knits. I cannot tell you how many times I machine washed Sonya's yellow Berroco Vintage sweater this winter, and it shows NO wear, NO pilling, NO loss of color.
Needles: US 5 and US 7. Another reason I love Berroco Vintage is that it gives me a reliable 5 spi and 7 rpi on US 7 needles, making it a great choice for so many patterns written for that gauge.
Finished dimensions: 20.5″ chest circumference, 6.75″ from cuff to armpit, and 12″ shoulder to hem.
gorgeous cables
The cables are really quite lovely, so much so that I went ahead and purchased the matching Silverfox bonnet pattern… except I won't be knitting a size that will fit Sonya smack in the middle of summer!
Sonya is less than impressed with donning a wool sweater on a hot spring day.
4
likes