I declare the Mineral sweater by Wondrlanding one of the best projects I've ever knit!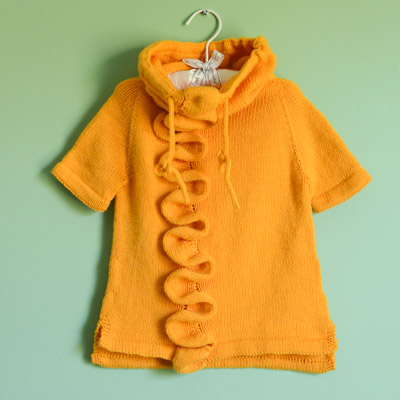 Just look at how adorable this sweater is! And the orange-yellow yarn is so happy-making! My favorite, too: Debbie Bliss Baby Cashmerino.
The pattern was a delight to work. A little while ago, Laura Chau wrote a blog post about writing pattern instructions in table format. I am totally on board with this approach, it makes so much sense to me. The Mineral pattern is written in this way, and even though there are 8 sizes, the instructions are so easy to follow. Love it!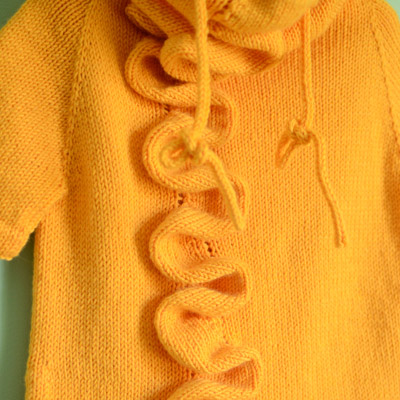 Pattern: Mineral sweater by Wondrlanding. I knit size 3 (for a friend's daughter), adding a tiny bit of A-line shaping and length to the body, so it can be worn as a tunic first, and then as a top.
Yarn: one of my favorites, Debbie Bliss Baby Cashmerino, in sunshine, about 4.5 skeins. This is a heavier yarn than called for in the pattern, so I had to rework the numbers a bit. No regrets, though, I love this yarn, and it's perfect for this type of garment.
Needles: US 3 and US 4. Using US 4 needles, my gauge was about 6 stitches and 8 rounds per 1″ of stockinette knitting in the round. (about 24.5 sts per 4″)
Finished dimensions: 22.5″ chest circumference and 14.5″ from shoulder to front hem.
Not much more to say! How about a recent picture of Sonya, who is already 7 months old!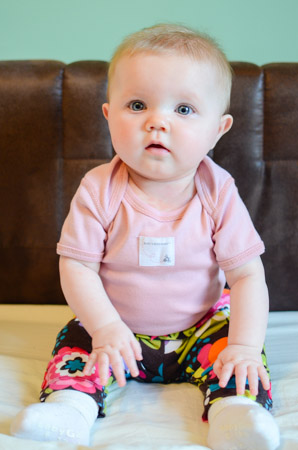 11
likes