I'm months behind in sharing some FOs with you. Months! The benefit of working through a back log of FOs is that you'll see pictures of Sonya from a while ago, and be able to see her grow between projects. Without further ado, here's a project I finished about 2 months ago.
This project was completed on January 11, 2015. Sonya is 3 months old in this photo.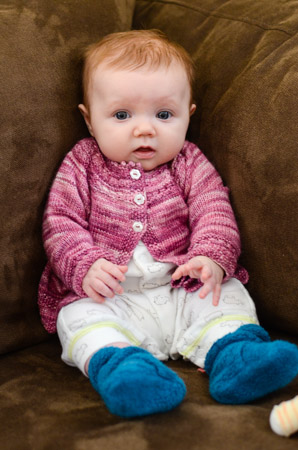 Pattern: Louise Cardigan from Kristen Rengren's Vintage Baby Knits. I knit the smallest size with lots of mods based on Ravelry feedback, mainly widening the sleeves and neck opening to match the generous proportions of the body.
Yarn: Sundara Yarn Fingering Silky Merino in Sugar Plum, recycled from a long-ago UFO. I used less than half a skein, about 265 yards.
Needles, gauge, and finished dimensions: I didn't note my needles and gauge, for some reason, but the yarn is fingering weight, and the cardigan is very light, so my gauge was probably quite close to the 27 stitches per 4″ that the pattern calls for. The finished cardigan is 10″ from shoulder to hem, and the sleeves are 6″ from cuff to armpit. (I didn't note the chest circumference before giving this to the intended recipient.)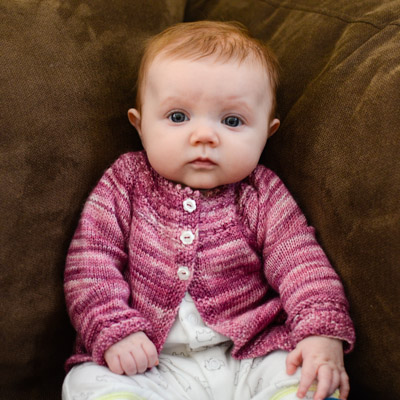 I think the flower buttons mimic the picot edge around the neck opening beautifully. For buttonholes, I worked the "reinforced eyelet" from Montse Stanley's Knitter's Handbook. That book is my everything.
9
likes