The sad thing is that just as I'm catching up and sharing the last of these 3 recent FOs, I've already finished another project. It's so difficult to keep up!
These pictures are from February 28th, so Sonya is just shy of 5 months old here.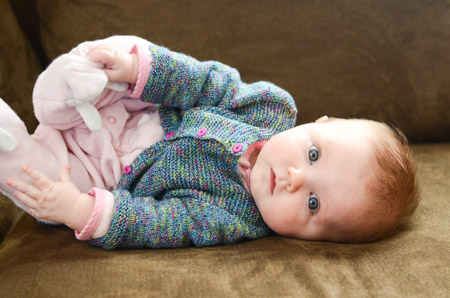 Pattern: Wee Cria by Ysolda. This is the second Ysolda pattern I've knit (Wee Envelope was the first), and I have to say, I really like the way Ysolda's patterns are formatted and written. A++. In this particular pattern, I really liked watching the top of the sweater form from the two shoulder rectangles, as well as the slipped-stitch buttonband, which lies flat, as promised.
I knit the 4th size, 9-12 months, though this sweater's chest circumference ended up being much smaller than expected, so it fits Sonya nicely at 6 months. I changed the sleeve caps a bit to make them less poofy – both because I didn't want them poofy, and because my yarn was very limited. For the buttonholes, I worked the "reinforced eyelet" from Montse Stanley's Knitter's Handbook.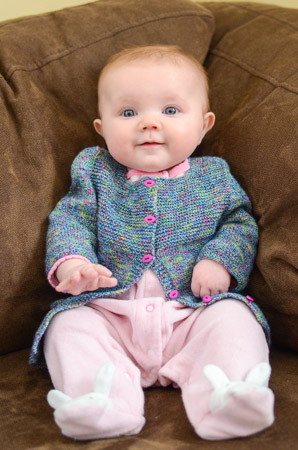 Yarn: Regia Bamboo, color 1066, rescued from a long-ago UFO, Sidewinders socks. I only ever finished one sock, and found myself frequently petting it and thinking, this yarn would make a fabulous sweater for a baby. So, when I came across this pattern, I frogged the finished sock, and recycled the yarn.
Because I had exactly 2 balls of yarn, no more and no less, I tried to get as much mileage out of the yardage as possible by knitting the sleeves last after weighing the yarn to divide it equally. The sleeves are thus about 3/4-length, which is actually pretty convenient for a baby, because they always drag too-long sleeves in food and such.
Needles, gauge and finished dimensions: I didn't note the needle size, but it must have been something small because the gauge is 8 stitches and 11 rows per inch. Yup, it's another fingering-weight baby sweater! The sweater dimensions are: 17″ chest circumference, 11.5″ shoulder to hem, and 3″ armpit to sleeve cuff.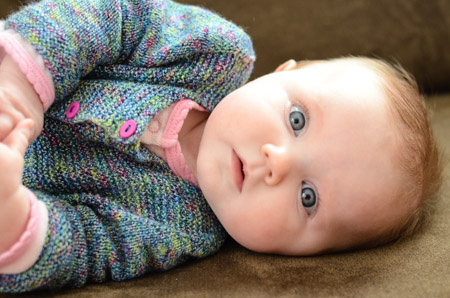 I had a difficult time finding just the right buttons. These pink ones are "craft" quality, but the color matches nicely, and the size was right. I knit faux pockets, and they are lined in purple sock yarn, though you can't see that from the photos.
11
likes