(Shhh! Scroll all the way down for the GIVEAWAY! ETA: The giveaway is now closed, thank you for participating!)
I don't want to dwell on the topic of snow in Boston, its magnitude, and its voracity in disrupting everyday life and work. Instead, let me show you this awesome hat I knit up!
Pattern: Rikke Hat by Sarah Young.
Yarn: Rozetti Polaris, in color Cloud Cover (61003), almost 1 full skein. The yarn is 65% acrylic, 31% wool, and 4% payette.  It's a lovely yarn – a bit heathered, with one ply being acrylic/wool, and another thread-like ply holding the payettes. The only minus is that it's pretty annoying to frog, but I didn't have to do much of that while knitting this super simple pattern.
Needles: US 4 and US 6 needles.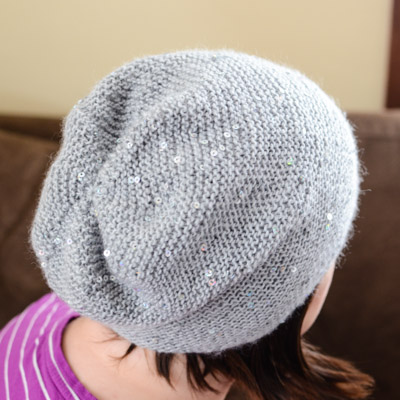 The hat is knit in garter stitch, and the pattern is written to be worked in the round, alternating rounds of knitting and purling. I weighed the option of purling every other round versus knitting the hat flat and adding one seam, and decided to knit the hat flat. I'm glad I did! The hat is not any worse for it, and the seam lets me find the back of the hat instantly. I seamed it using a smooth wool sock yarn… seaming with payettes wouldn't have been pretty.
And now to the topic of THE GIVEAWAY! ETA: The giveaway is now closed, thank you for participating!
I do love the way this hat came out, but looking at myself in the mirror only confirmed what I already knew – that I prefer my hats to be close-fitting caps or a more traditional silhouette, not quite this slouchy. And so, if YOU like this hat, please leave a comment on this post between now and 9 p.m. on Friday, and I will select a winner at random to receive this hat! This hat is quite stretchy and should fit the average adult head (mine is 22.5″ around). Please read here for full rules of this contest, and good luck!
4
likes