A little while ago I showed you a hexagon blanket that I was knitting. Well, at the end of 2014, I finally finished it!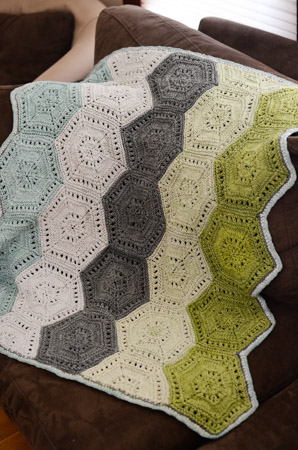 Pattern: of my own design, inspired by the Sand Dollar Wrap in New Vintage Lace and the Basalt Tank in Knitting Nature.
Yarn: Be Sweet Bambino Taffy in the Spearmint Gum colorway, 70% organic cotton and 30% bamboo, 9 skeins.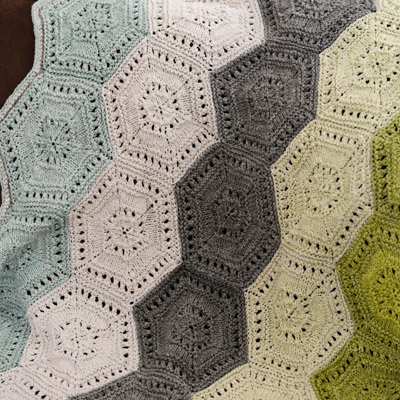 This yarn is very soft and lovely to work with, but if you remember, each skein was composed of 5 colors, tied together with a square knot.  If that kind of thing would irritate you as much as it did me, I have some alternate yarns I can suggest. I was determined to work through this stash yarn, however, and so ended up weaving in a bazillion ends after piecing together the same color from 9 different skeins of yarn, boooo!
Needles, finished dimensions: I used US 7 needles, and the hexagons ended up being approximately 3.75″ along each edge. I made a few half-hexagons so that the blanket is straight along two edges, and jagged along the other two. The finished blanket is approximately 30″ x 33″.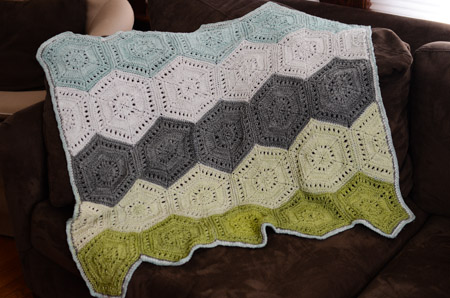 After mattress stitching together the hexagons using a smooth, fingering weight superwash wool, I worked three rounds of single crochet along the edges. I really do like the finished product, despite the hassle with the yarn!
3
likes