I don't have the best record for finishing Christmas stockings in time for Christmas, but I totally beat the deadline for Sonya!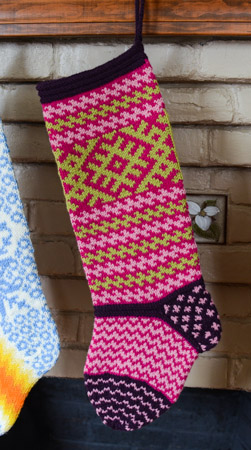 Pattern: the Komi colorwork pattern is co-opted from mitten #10 in Charlene Schurch's Mostly Mittens
. As you may or may not know, Walter has some roots in the Komi region of Russia, so it seemed totally fitting to have at least one stocking with Komi motifs. For stocking construction and stitch counts, I mimicked the St. Nick stocking I knit for myself 5 years ago.
Yarn: Raumagarn Strikkegarn 3-ply wool yarn, in 5/71 (light pink), 198 (light green), 173 (dark pink), and 112 (aubergine). I bought the yarn from Nordic Fiber Arts in Durham, NH, and their customer service was fantastic; Debbie, one of the employees (owner?), helped me select colors over the phone! Highly recommend.
Needles: US 4 Susan Bates 16″ circular needle and dpns.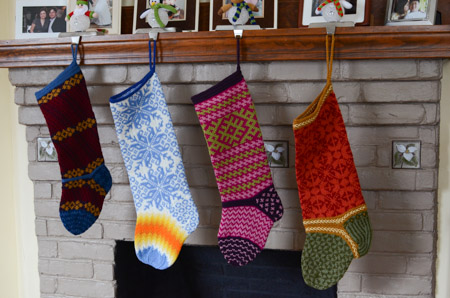 Here is our fireplace mantle, with everyone's stockings in place!  From left to right: mine, Gregory's, Sonya's, and Walter's.  They are all different designs, but I think they look beautiful together.
0
likes