I recently participated in a gift exchange (LSGP's Fishmas) for which I knit a pair of fingerless mitts, and sewed two project bags, and I wanted to document them here.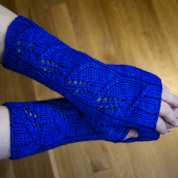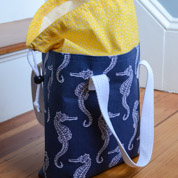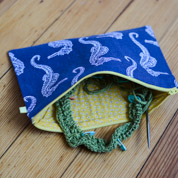 ---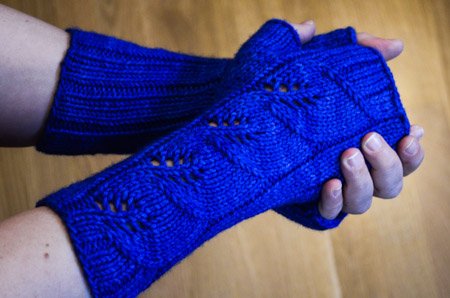 Pattern:  Three Leaf Mitts by Brenda K.B. Anderson.
Yarn:  Madelinetosh Tosh Vintage, in Lapis.
Needles:  US 7.  This gave me a gauge of about 4.5 stitches and 7 rounds per inch.
This was a great project for a swap.  It was quick, used less than 1 skein of yarn (about 72 grams) (important because there was a limit on the money spent), and I think the result is really beautiful.
Pattern notes:
I worked the pattern over 36 stitches instead of 32.
I started and ended with 5 rounds of ribbing instead of 3.
I added 1 repeat after the thumb to provide additional wrist coverage
I worked the thumb entirely in stockinette (pattern has it start in stockinette and then continue in ribbing; not sure why, or if it's a mistake); total of 6 rounds worked.
---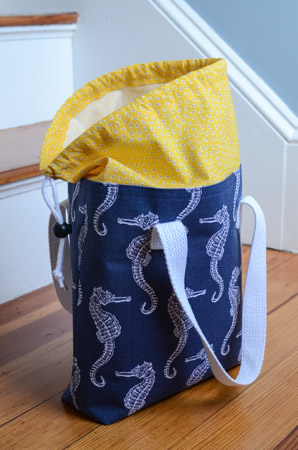 Pattern:  Lunch Sack from 1, 2, 3 Sew
, available through the sew mama sew blog.
Materials, all from my local Joann's:
Home decor weight, seahorse print, 100% cotton fabric.  Working with this directional print and making sure the seahorses lined up and were facing the same way was pretty cool.  Instead of attaching batting as in the original lunch bag pattern, I interfaced the fabric with Pellon 911FF to give it a little oomph, so the bag could stand up on its own.
Yellow calico 100% cotton fabric
1″ wide white belting for the handles
1/8″ wide white cording for the drawstring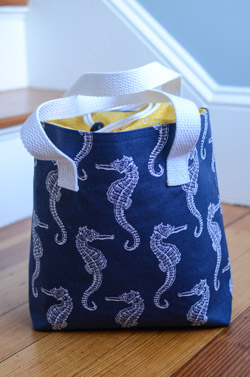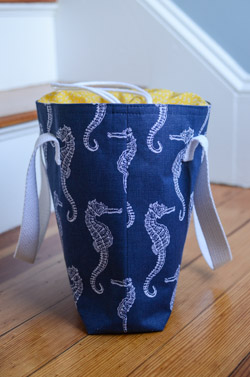 Pattern notes:
When I first saw the pattern, I was hesitant to make it, because there aren't many diagrams.  However, once I took the time to read through carefully, the directions were totally clear and I could follow them.  It's a well-thought out pattern, with all seams finished.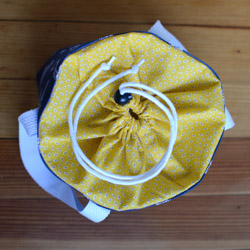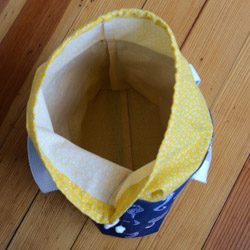 As written, the finished dimensions of the bag are 9 1/4″ wide, 3″ deep, and 8 3/4″ high, plus the lining extends up another 5 1/8″.  For my bag, I cut 13″ x 13″ canvas pieces, which made the canvas part a little taller, and the lining extended up only 4 1/8″.
I was pleasantly surprised at how easily my sewing machine handled sewing the white belting handles; I had been very nervous! I recommend attaching the handles before sewing the bag pieces together.
I recommend sewing together the lining and the canvas at the squared off corners before step 9, otherwise there is too much wiggling and pinning in step 9.
---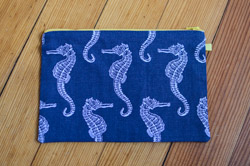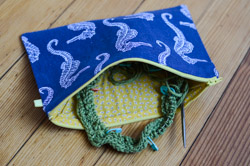 Pattern:  Zippered Wristlet tutorial from the Splityarn blog.  I've used this tutorial before, and still love it!
Materials:  same as above.  I added a tiny piece of grosgrain ribbon instead of the wristlet strap.
Pattern notes:
I cut 10″ x 7″ pieces of fabric, again, paying attention to the placement and direction of the seahorses, and used a 9″ zipper.  The finished dimensions of the pouch are 9 1/4″ x 6 1/4″.
Just a note to self:  you can use a longer zipper and cut off the excess by stitching straight across the lining and the main fabric (and the zipper) in the last step before turning everything right side out.
1
like