I'm nearing 40 weeks of pregnancy, but baby girl doesn't seem to be in a particular rush.  In the meantime, I'm cranking out a ton of knitting projects!  I'm going to try to post at least some of them while I have the time and motivation!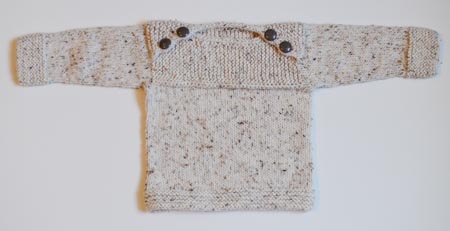 Pattern:  This is the adorable Wee Envelope by Ysolda.  It is one of the most brilliantly-constructed and clearly-written patterns I've ever knit.  I think everyone should knit one (or more!).  I knit the sweater for a co-worker who's expecting her first child (sex unknown) at the end of November, and it is the smallest (0-3 months) size.  The only mod I made was to reduce the number of rows in the buttonholes, so that I could use smaller buttons.  As a side note, this sweater reminded me a bit of the Petite Facile Pullover I knit a few years ago.
Yarn:  For this particular recipient, it was important to make the sweater very low maintenance.  I chose to knit it using Tatamy Tweed DK, which is safe to machine wash and tumble dry (45% cotton, 55% acrylic, oatmeal tweed, only 1 skein!).  The yarn has such a nice drapey hand, and a rustic look true to the original design.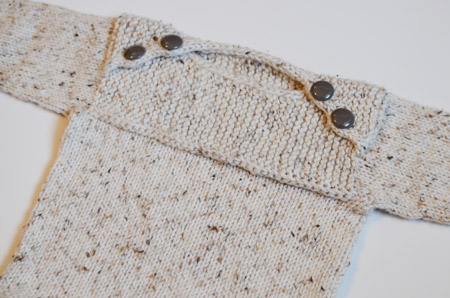 Needles, gauge, and finished dimensions:  I used US 5 needles, which gave me a gauge of 6 spi and 7.5 rpi before washing.  After machine-washing and drying, the fabric morphed a bit to a final gauge of 5.75 spi and 8 rpi (so, it stretched width-wise, and shrunk height-wise).  The sweater is approximately 16″ around the chest, 6.75″ from armpit to cuff, and 9.5″ from shoulder to hem.
The other Wee Envelope
So, the truth of the matter is that this is my second attempt at knitting a Wee Envelope.  The first one I knit didn't work out nearly as well…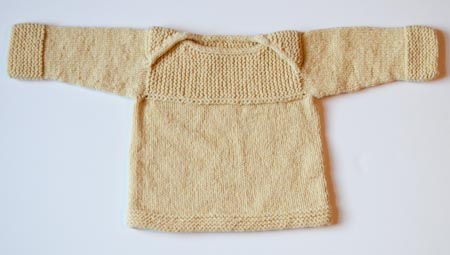 I know it looks innocent and cute, but the fabric is, in fact, felted :(.  In my rush to start the sweater, I grabbed some Green Mountain Spinnery Cotton Comfort, mainly because I remember this yarn being the one and only yarn used in the book Natural Knits for Babies and Moms
. Well, the yarn says to hand wash, but (1) it is 20% cotton, (2) it's recommended in a book for baby knits, and (3) it was important for this sweater to be easy-care, so I decided to test my luck and throw the sweater in the washing machine. Twice. Why not?!?  Of course the yarn felted slightly and the sweater shrank, and I have a feeling that it will continue to shrink with every wash if it's not hand washed.  I decided to keep this sweater for my own baby, and re-knit the pattern using a different yarn for my co-worker.  I also decided against buttons for this sweater because the fabric is pretty stiff and cushy, and I don't think the neck hole needs additional help to stay closed.
0
likes