In the weeks leading up to Sonya's birth, I picked up and finished a very old UFO: a "honeymoon blanket" that was last mentioned on this blog in December 2011.  I've knit a few of these blankets over the years; they all have the same basic ingredients:  a multi-colored cotton yarn by Katia, and mitered squares which are knit one onto the next.
When I picked up this particular UFO, I was surprised and embarrassed to discover that 97% of the work had been done.  The squares had all been knit, and ends woven in.  Just the center seams needed to be completed, and a border added.  We all have projects which linger in near-completion for 3 years, right?!?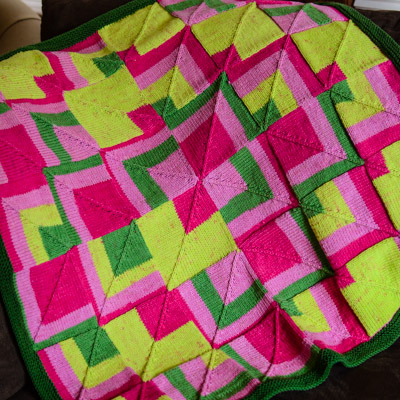 The details are the same as the first Honeymoon Blanket I completed back in 2008.  This time, I used Katia Jamaica in 4004.  The border is Gedifra Korfu in 2068.  It's slightly thicker than the Jamaica, so I picked up 5 border stitches for every 6 stitches of the blanket's body to make up the difference in weight.  I ended up knitting each edge of the border separately, and then making a tiny little seam in the corner.  The knitting was much more manageable this way, and also I could knit each row instead of purling every other round.
This is the back of the blanket, which is tidy enough, I think.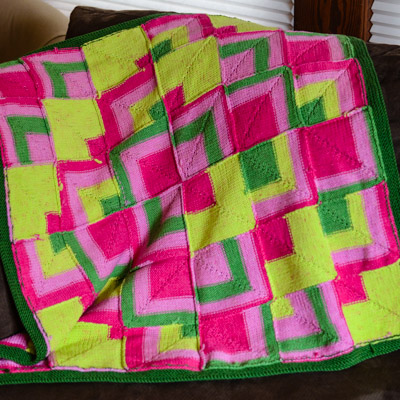 I bound off the last row of stitches, seamed the last corner, and wove in the last end literally a few hours before my labor with Sonya started.  Something had compelled me to finish this project that night (and also to do all the laundry).  Now washed and blocked, I look forward to using this colorful blanket with my baby girl.
1
like