This is Be Sweet Bambino Taffy in the Spearmint Gum colorway, a worsted weight blend of 70% organic cotton and 30% bamboo which is now discontinued.  And it is the weirdest yarn I've ever seen.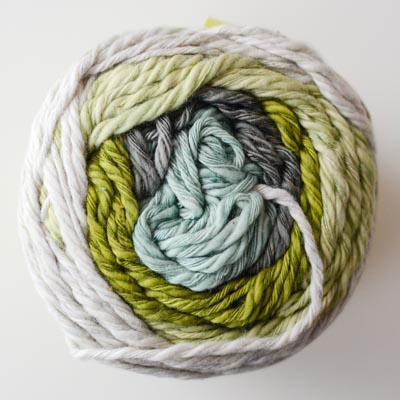 I bought several skeins of this yarn many years ago, mainly because it's wool-free and gradient-colored!  You don't often come across those two properties together.
Recently, I got the idea to pull it out of my stash.  I came across the Sand Dollar Wrap in the book New Vintage Lace
.  Isn't it gorgeous?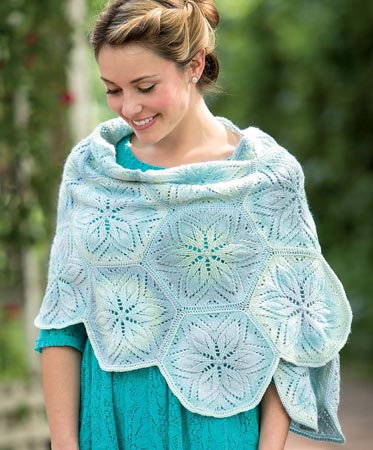 The original pattern uses Crystal Palace Mini Mochi, which is a fingering weight wool blend.  I remembered that I had Bambino Taffy in the stash, and thought with a little tweaking, I could knit something like the Sand Dollar Wrap in a heavier weight, and that, depending on its final size, it could work as a throw or blanket.
To modify the pattern, I whipped out my old copy of Norah Gaughan's Knitting Nature
. It's an oldie, but goodie (I even wrote a preview/review a million years ago!).  This book has a whole section on hexagons, so I knew I'd find some inspiration in there to modify the Sand Dollar Wrap for a heavier weight yarn.  And I did!
I used the Basalt Tank as a starting point, and then tweaked the pattern to make much smaller hexagons.
So, with my modified pattern and Bambino Taffy in hand, I cast on.  As I neared the end of the first color, I eagerly awaited the transition to the second.  Except the next color was tied with a knot to the first.  Huh, that's strange, I thought.  I've occasionally encountered that in Noro yarns, so I undid the knot, and moved on.  And then, when I reached the end of the second color, the third was tied with a knot to the second.  I pulled apart the skein, and then two more brand new skeins, just to make sure I wasn't going totally crazy, and discovered that this gradient yarn is nothing more than (equal) lengths of five separate colors tied together with knots.

Have you ever seen such a thing?!?  If I wanted to combine colors in this way, I could do so myself with any number of yarns, including Be Sweet Bambino from which this "gradient" yarn is clearly made!
I suppose I could just ignore the blunt splices and knit through the knots, but that's not my nature.  I don't think I've ever left a knot in my knitting (except, on occasion, when I encounter a knot in a single ply of a multi-ply yarn).
So, since discovering this interesting feature of the yarn, and needing to cut up each skein anyway, I've decided to make each hexagon out of one color.  They are lovely colors, and they do go together very nicely, even if each hexagon now has at least one join in it.  It wasn't going to have a gradient look anyway, just blunt transitions, so might as well deconstruct and reconstruct the whole thing.  GRUMBLE!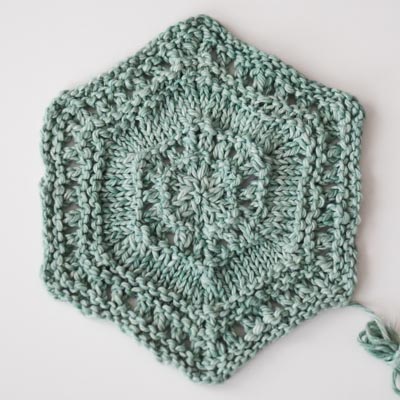 5
likes