I am about 1 month away from having my baby, and it seemed like the right time to knit her a little sweater.  I really loved how the striped raglan sweater I finished a little while ago for my friend came out, and decided to knit this project as a kind of fraternal twin – I used the same yarn colors, and the same stitch counts/dimensions.  Bonus of this approach:  I already had all the yarn in my stash, wound and ready to go!
Pattern:  Top-down raglan with a stitch pattern at the yoke of my own creation.
Yarn:  One of my all-time favorites for baby knitting:  Berroco Vintage, in mochi (off-white), dark denim (navy), sunny (yellow), and fennel (heather green).  I used US 5 and US 7 needles.  I used less than 1 skein of the yellow, and just a little bit of the other three colors.
Finished dimensions:  18″ chest circumference, 6″ sleeve length to underarm, 10.5″ shoulder to hem.  I was aiming for about 3-month size (for this winter – my baby is due at the beginning of October), and I hope I came close.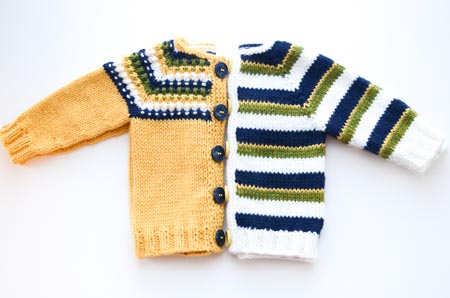 It's interesting how the exact same set of yarn colors can look so different depending on how it's knit up!
About the stitch pattern:  I wanted to come up with something that would allow the colors to flow one into the next, but without needing to strand anything.  This stitch pattern accomplishes that – it's just a clever combination of slipped stitches, knits, and purls.  Each color is used for 3 rows, which you don't see very often, for a reason (it's usually 2 or 4)!  Three rows means that if you carry the yarns up the side, as I did, sometimes you work a row from the right side, and sometimes, from the wrong.  That can get confusing, especially because there are increases to be made every other row.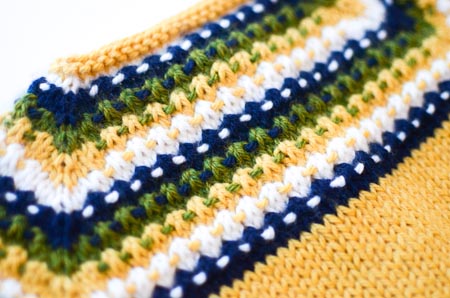 But with a little practice, you get used to it, and I think the results are well worth it.  The fabric ends up having a nice texture to it, and you'd never know that there wasn't any stranding, or any post-knitting finishing, like weaving in lengths of yarn.
I like the stitch pattern so much, that I'm currently working on a complementary sweater for Gregory:  same textured yoke, but a different main color and finishing.  Details TBD, though I better hurry up if I want to finish before baby girl is here!
2
likes