The other day someone was asking about a nice red colorway of Malabrigo, and I opened up my blog to look up that lovely little shrug I knit a few months ago using a gorgeous shade of red Malabrigo, so I could recommend the name of the colorway.
Except the shrug wasn't on the blog.
Huh.  I knit it during a very tumultuous time – I was newly pregnant and very sick, we were dealing with health issues in my family, and there were many stressful things at work – and I nearly questioned myself whether I knit it at all.  Then I found the pictures, they had even been edited!  And then the printout of the pattern, with notes on it and everything.  I guess I didn't imagine it, after all, I only forgot to blog about it!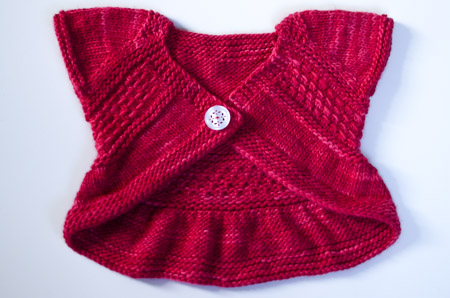 Pattern:  Entrechat by Lisa Chemery, 12-18 months size.  In my notes I marked the shrug as being 10″ from the top of the shoulder to the bottom of the peplum, about 10.5″ across when measured at the armpits, and 9.5″ across when measured at the shrug's most narrow point (a few inches below the armpits).  As far as I remember, I made no changes to the pattern.
Yarn:  Malabrigo Worsted in Geranio, about 150 yards.  That's less than 1 skein!  What a delightful and quick way to whip up something so cute!
Needles:  US 7.
I do remember really enjoying knitting this pattern.  It's quick, simple to execute, and the result is darling.  I especially loved the gathered peplum in the back: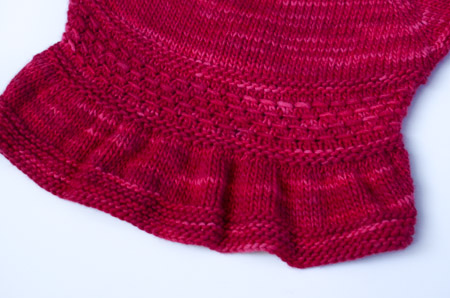 I knit this shrug for a little girl whose mom was very helpful to me and my family during our tumultuous spring.  I paired it with a simple white cotton dress when giving as a gift.  I thought the little white button I picked up at my local Joann's went very well with it.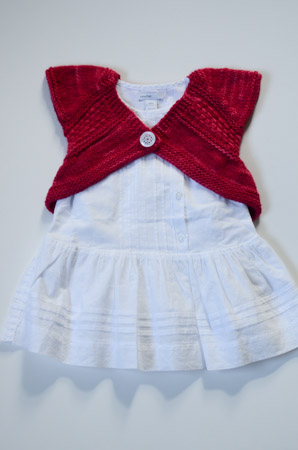 It's not typically my style to blog about things I knit five months ago, but I will follow the motto, "better late than never"!
4
likes