It's been a while since you've heard from me, but I've been busy knitting and crocheting this, that, and the other.  Most recently, I finished a sweet little striped raglan baby sweater for a friend who's expecting in a few months.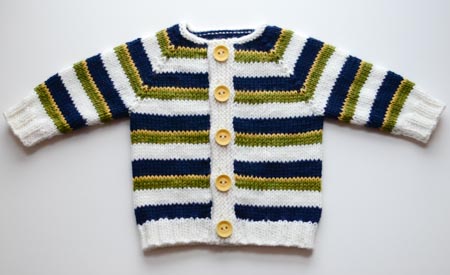 Isn't it so cute?
Pattern:  Just a top-down raglan, with a little neck shaping, a garter button band, and ribbing at the hem and cuffs; I didn't follow any particular pattern.
Yarn:  One of my all-time favorites for baby knitting:  Berroco Vintage, in mochi (off-white), dark denim (navy), sunny (yellow), and fennel (heather green).  I used US 5 and US 7 needles.
Finished dimensions:  18″ chest circumference, 5.25″ sleeve length to underarm, 10.5″ shoulder to hem.  I was aiming for about 3-month size (for this winter – baby is due beginning of November), and I hope I came close.
As you can imagine, knitting a wee sweater with 4 different colors of yarn results in a ton of yarn ends.  But I took this in stride, and wove in the ends as I went, as much as possible.  Besides, if you want a colorful sweater, you have to have lots of colorful yarn ends, right?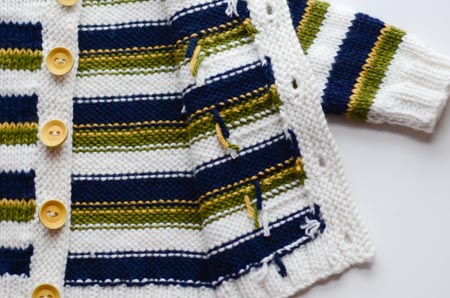 Not too terrible, I hope.
I was really pleased to find nicely complementary buttons at my local Joann's.  They are yellow with a thin white/green kind of rim, and just the right size.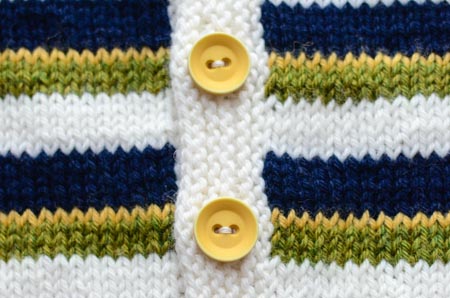 I hope this little sweater fits, and that the recipient looks great in it!
4
likes