Here's an interesting dilemma to ponder over the weekend: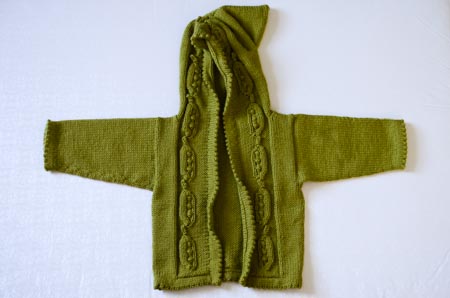 I am embarrassed to say that this project dates back to August 2011, when I was home on maternity leave with my first child.  At that time, I cranked out a few knits from the wonderful 60 Quick Baby Knits
(my review/preview here), including this sweater, called the Sweet Pea Cardigan.
I have no recollection whatsoever about why I was knitting this sweater, and to whom I planned to give it, but as you can see from the photo at the top, I basically finished it, even blocked it.  Recently, while organizing my stash and projects, I re-discovered the sweater, and decided that, hey, maybe I should do something about it now that I'm about to have a baby girl.
The reason this sweater has been in time out for 3 years is that I could not get the picot facing around the opening of the sweater and the hood to lay flat.  If I recall correctly, I re-knit it a good 5 times, each time picking up fewer and fewer stitches, but it continued to flip out, even with aggressive blocking.  Is it something about the way I tack down the back of the picot facing?
So, my knitting dilemma is: what should I do with this sweater?  Unpick the picot facing and try again?  Tack it down in a different way?  Re-knit the facings using a different stitch pattern?  I think garter and seed stitch would not look good, but maybe plain stockinette, or attached i-cord (like here) or something?
I'm also pondering exactly how I will attach those ribbons, now that I'm faced with having to do so.  I don't think I can simply leave them off, as the pattern has a nice wide stretch of fabric for their placement.
What do you think???
0
likes