Thank you, everyone, for all your comments, for your congrats on 10 years of knitting, and for your feedback on my new blog!  There is still time to enter the giveaway for a chance to win a handknit shawl or scarf!  Just leave a comment on the post before June 11th, 9 p.m. EST.
The comments and all-around good feeling of moving to a modern blog design were a great start to my weekend, which was filled with balloons, chocolate cake, and lots of toys – my little boy turned three on Sunday!  Can you believe it?!?  I can't!!!
Next up, I wanted to tell you a little bit more about one of the prizes of the giveaway – the Alpine Frost Scarf.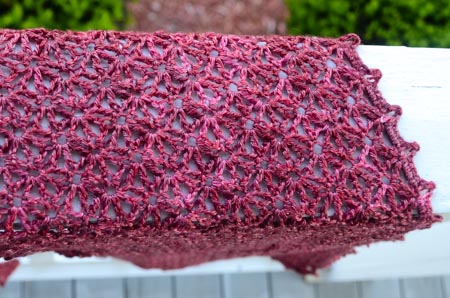 Although I blocked the scarf only recently, I started crocheting it almost a year ago.  I truly enjoyed the stitch pattern, and felt that it was a great project for frequent starts/stops.  It was pretty portable, too, until it got too big to fit in my purse.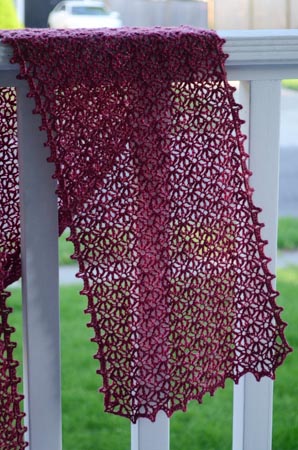 Pattern:  Alpine Frost Scarf from The Best of Interweave Crochet.  After crocheting the scarf, I added a picot edging all the way around, as described in this FO on Ravelry.  Love the way the edging looks, and it allowed me to thread blocking wires through the loops and block the scarf nice and straight ;).
Yarn:  merino/tencel blend (fingering weight) that I'm pretty sure I purchased from Mind's Eye Yarns in Porter Square.  I sadly do not have additional details, like yardarge, etc.
Hook:  E/3.5 mm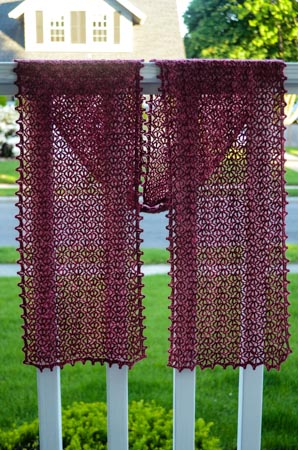 Finished dimensions:  about 70″ long and 8.5″ wide.
I would keep this scarf for myself (it's my kind of color), except I find that I prefer smaller/thinner scarves that I can tuck inside my coat.  So, it became part of the giveaway!
0
likes